Beef Jerky maker takes a bite at inventory management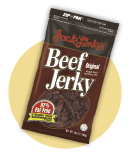 ROI projected in 12 months
(This article originally appeared in a 2005 issue of RFIDOperations)
By Larry Moffi, Contributing Editor, RFIDOperations
MINONG, Wis.—When Jack Link's Snack Foods chose to meet Wal-Mart's RFID compliance deadline, it did so within 60 days of beginning the project, at a cost of just $48,000 and by adapting its financial management software, Microsoft Business Solutions' Navision, to accommodate its unique RFID demands.
"We challenged our solutions provider, ABC Computers, to take existing technology and tie it in with RFID application," says Karl Paepke, Jack Link's vice president of operations. ABC turned to Microsoft. Three weeks after Microsoft began to customize Navision, Jack Link's was shipping tagged pallets to Wal-Mart.
Although the midsize, Wisconsin-based maker of beef jerky had never imprinted barcodes on product in the past (the high temperature process required to make beef jerky precluded barcoding) the RFID transition was seamless. Microsoft already had a pilot system in place with KIMs, a potato chip manufacturer in Denmark, and was able to quickly adapt it to meet Jack Link's specifications.
Jack Link's can "expect to see a ROI within 12 months, because they need only a 1% improvement [in inventory accuracy] to be cost effective. Jack Link's and many midmarket companies will also see faster ROI than larger companies, which typically have 99% inventory accuracy," say Alex Renz, RFID program manager at Microsoft Business Solutions.
In this first of a four-part phase-in of RFID, Jack Link's uses Avery Dennison Class 1 tags (which are recycled) and SAMSys readers, which are located in the packaging and finished goods area of the plant. Currently, Jack Link's is tagging less than 1% (only Wal-Mart SKUs) of product. "At this point we're still in the early stages," Paepke says. "A big part of the process is tying into the backbone of our system."
Phases two and three, which will be implemented concurrently, will involve tagging bins and totes within the manufacturing system and associating a lot number with the product as it travels through system, which will improve quality control, increase product yield and reduce redundancy, a problem that frequently plagues smaller companies. In effect, RFID provided a new and more efficient way of viewing and assessing mutual efficiency of production and fulfillment operations.
The system also complies with the U.S. Department of Agriculture's 2002 Public Health Security and Bioterrorism Preparedness and Response Act which, beginning in December, requires food companies to keep and make available to the FDA records identifying the specific source of each ingredient used to make every lot of finished product. With the RFID system, Renz says, identifying products in the event of a recall would take a matter of minutes.
Phase four is total RFID product identity. Ultimately, five Jack Link's U.S. plants would feed one central distribution center, in Iowa.
The company's inexpensive and successful transition bodes well for other small and mid-size companies. "Although RFID might shave some additional personnel costs and improve efficiency modestly for [larger companies]," Paepke says, "it can make a more dramatic impact at [smaller] companies that lack barcode systems entirely, or use them only for customer compliance [at the] item level."
Jack Link's success and cost-effective transition also set a standard for manufacturers of what Renz calls "high value and regulatory compliance products." And for Microsoft, as well as the smaller Wal-Mart suppliers, this is, Renz says, "a strong business case." According to Renz, and with Jack Link's as evidence, the beauty of this system "is that it can be built both down and up and be scaled seamlessly into other business processes."