Beijing Olympics to showcase world class security with a record setting price tag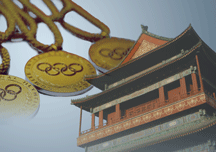 Contactless technology is nothing new for China. From the Great Wall to transit, contactless has been around for the past few years and, coupled with RFID usage (such as tags, etc.), makes the country–for now–the largest RFID smart card technology market in the world. That market is growing as the country gears up for next year's Summer Olympics.
In a recent report, RFID in China 2007-2017, consulting company IDTechEx, states that China has become "the world's largest RFID market by value." Of course, that includes all types of RFID technology, from contactless ticketing and access control to supply chains and the tagging of military hardware.
The report suggests that of the $4.96 billion invested globally in RFID, $2.7 billion of that will be spent in East Asia, with most–$1.9 billion–in China alone. That's 38% of the global market. This, the report says is due to a "peak in delivery of contactless national identification cards in China prior to the 2008 Olympics."
About $1.65 billion is being spent on 300 million of these cards. Another $250 million is going for RFID tags and their systems, "most of this related to transport, cash replacement and secure access cards," the report adds. It does issue a word of caution: Once the ID card market is saturated, "China will sink below the U.S. and probably Japan in value of its RFID market but that market will nonetheless be growing very fast."
That market will recover within the next ten years, however, as other RFID projects–with animal tagging, transport, cash replacement cards, secure access, manufacturing, military and supply chain applications–making up the difference.
Then there's that small two-week event slated for Beijing Aug. 8-24, 2008. The 2008 Olympic Games will keep China's RFID market bustling and merchants, hotels and restaurants happy to serve the 800,000 anticipated visitors.
It hasn't been billed as the largest RFID project to date–the country's national ID card project would take that prize–but it certainly is up there, at least financially. For starters, some seven million contactless tickets are expected to be produced for the 17-day event. About half of the tickets are for domestic sales and the rest will be marketed overseas. Ticket sales are expected to bring in about $140 million, according to one trade paper.
Bids for the new contactless ticket haven't yet gone out so it's not known what kind of chip will be utilized. One of the largest chip suppliers in China is NXP. Its MIFARE line is prevalent in many of the contactless transit ticketing systems throughout the country.
One of the major benefits of a contactless ticket is that it would reduce counterfeits. That means elimination of manually checking each ticket, which should speed up ingress into the games. Tickets to the opening and closing ceremonies–the two most-attended events–are also expected to include a digital picture and ID information of the holder.
Not only will these tickets speed up entry into the various games, but the contactless technology will enable security to track ticket holders, according to a report from the Security Industry Association. Signals from electronic ticketing systems will be transmitted to monitoring centers where ticket-holders whereabouts are tracked.
XceedID Corporation, a global provider of contactless smart cards and readers, and Sino Security, a security equipment distributor in China, will be providing XceedID readers for the Bejing Olympic Committee.
One thing the Chinese don't have to worry about is a learning curve for contactless ticketing. In addition to the contactless transit ticketing systems in place in more than 100 cities throughout China, last year's Tennis Masters Cup hosted by China included contactless ticketing. And one of the largest transit projects in China, with around 10 million public transport journeys every day, is in Beijing.
RFID ticketing has also been implemented for other applications such as access control at tourist sites, including the Great Wall and the Ming Dynasty Underground Palace and Emperor's tombs.
China expects to invest about $300 million to assure a secure Olympics. According to a report from the Security Industry Association, the five major security systems that will be used include video monitoring, burglar alarms, access control, electronic ticketing, security detection and food. Yes, food.
Plans are to employ a food safety tracking system. Food delivered to athletes will be closely monitored with an RFID system throughout the production process and transport. According to ChinaTech News, fruits and vegetables, animal products, and pre-packaged foods will all be covered by the tracking system. Some 15 food safety authorities, several from the U.S., were named to a Beijing Olympics food security panel two years ago to assist in this project.
The Beijing organizing committee announced that this program will rely heavily on the use of Global Positioning System and RFID to monitor and track all Olympic food products through the production, processing and distribution processes.
"All food entering the Olympic Village and other facilities will be given an Olympic food safety logistics code," said Wang Wei, executive vice president of the Beijing organizing Committee for the Olympic Games.
"High technology arts including IC card, RFID and GPS will be used to monitor the whole process from start of production through transportation to the village," Mr. Wei said.
Vegetables, fruits, meat, edible oil, aquatic products, children's food and health food are the main targets in food checkups according to Olympic organizers' detailed plan for the campaign.
It includes closing, by the end of the year, all unlicensed restaurants, while ensuring that all its food producers are qualified, and that no harmful material has been used in food processing.
Even 10,000 peach farmers in Beijing's largest fruit-producing area, have pledged not to use banned pesticides and fertilizers in fruits for the Games.
Perhaps the best overview of just how secure Beijing is trying to make the Olympics comes from the SIA's Olympic Update report. SIA is a nonprofit international trade association representing electronic and physical security product manufacturers. Its report examined "the many security challenges and the technologies being deployed to safeguard both Beijing and the many Olympic venues."
"This report underscores that the Olympic Games not only showcase world-class athletes, they showcase world-class security technologies and services from our industry," Richard Chace, executive director and CEO of SIA, said when the report was first released. "People across the globe will be wondering how one of the world's premier events will deal with security threats and issues. SIA's China Olympic Security Update goes a long way toward answering those questions."
Olympic security spending takes the Gold Medal
Total investment for the Beijing Olympics is $36.3 billion. Its investors include the central government, local governments of host cities, Beijing Organizing Committee for the Games of the 29th Olympiad and social groups.
Based on the security investment for the Athens and Sydney Olympic Games, Beijing expects to invest $300 million just for the security of the Olympic venues. In terms of purchasing power parity, that's equivalent to $720 million, the report says.
According to data from the Beijing Municipal Public Security Bureau, the Olympic Security Protection investment will total another $300 to $400 million, to cover the cost of personnel, physical, and technical protection.
State of the art RFID technology will be integrated with building intelligence systems for seamless interoperability. This includes tracking of ticket-holders. Also, extensive video monitoring systems will be relied upon to capture and record any breach in security.
The five major security systems that will be used include video monitoring, burglar-alarms, access control, electronic ticketing and security detection, totaling $115 million.
Investment in video monitoring is $28.5 million or 33% of the total, due to the large number of spy/CCTV cameras that will be installed in and around the venues, the report adds.
Some of the Olympic sponsors providing security protection products include GE, Honeywell, Panasonic, Pelco, and Siemens.
Source: SIA's China Olympic Security Update