Belkin's unveils smart card reader for government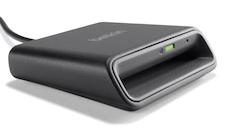 Belkin released a USB smart card reader tailored for use with the Defense Department's and Common Access Card and other agency PIV applications.
The card reader meets ISO7816 standards with additional security measures include a uni-body enclosure that deters physical electronic tampering and exclusively ROM firmware to eliminate the risk of alteration.
Logistically, the card reader has undergone some changes that will make using the card reader more accessible. A wide-mouthed card entry enables for quick and easy one-handed card insertion and an altered swipe angle enables increased placement versatility — under-desk, desktop and stackable mounting.
The reader operates with Windows 7 and standard CCID drivers requiring no additional software or drivers are required.
The Belkin USB Smart Card and CAC Reader is currently available for purchase through company's U.S. network of distributors. The card readers come with three-year warranty, tech support and TAA compliancy.