BIO-key and identiMetrics provide secure identification for students at Philadelphia school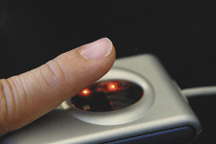 A Philadelphia elementary Catholic school is using fingerprints to assure its students are in class. When students enter the classroom and place their fingers on a biometric reader, it eliminates the need to take roll. While helping protect a student's identity, the system also eliminates the possibility of lost or stolen identification cards or students having to remember passwords or PINs.
WALL, N.J.– BIO-key International, Inc., a leader in finger-based biometric identification and wireless public safety solutions along with identiMetrics, Inc., a BIO-key partner and provider of fingerprint biometric identification solutions for schools, have delivered a system that automates student attendance, as well as cafeteria processes at Visitation BVM Catholic School in Philadelphia, PA.
Visitation BVM, providing quality elementary education to a multicultural student body, has been successfully running the identiMetrics software platform, identiFi for over a year with exceptional results. identiFi, a comprehensive biometric fingerprint identification and security platform, utilizes BIO-key's WEB-key technology to provide fast, accurate and secure student identification.. Some students, as young as four years old, represent the most challenging segment of users for any fingerprint biometric system, but the BIO-key software algorithm performs flawlessly. The power of BIO- key's WEB-key technology combined with the versatility of identiMetrics' software identification platform eliminates the cost and administration of issuing and replacing lost, stolen or forgotten student ID cards or PINs. Plus privacy is ensured because fingerprints are never stored.
In the morning, attendance is taken automatically utilizing School Attendance Keeper from RVPM Designs. When students enter the classroom and place their fingers on a biometric reader, it eliminates the need to use valuable classroom time to take roll. Sister Dolores Egner, Principal of BVM commented, "I was a skeptic at first, but this system is a godsend. Replacing our time consuming, manual attendance and record keeping process for meal reimbursement with this system has freed up our staff to concentrate on our core mission- education!" Rose Siegle, Director of Food Services for BVM added, "The system delivers value on many levels. Attendance records give us an accurate daily lunch count, allowing us to plan our food service much more efficiently, saving time and saving money. "
"This is another example of biometrics protecting a student's identity, eliminating the possibility of lost or stolen identification cards and the nuisance of students having to remember and reset passwords or PINs. The BIO- key and identiMetrics system immediately improved the speed, convenience, accuracy and privacy of the services being provided. This solution can be replicated in the over 108,000 elementary and high schools throughout the U.S.," said BIO-key CEO Mike DePasquale.
"BIO-key and identiMetrics are proud to help make Visitation BVM Catholic School a technology model for the Archdiocesan Nutritional Development Food Service Programs," added Dr. Raymond J. Fry, President & CEO of identiMetrics.
About BIO-key
BIO-key develops and delivers advanced identification solutions and information services to law enforcement departments, public safety agencies, government and private sector customers. BIO-key's mobile wireless technology provides first responders with critical, reliable, real-time data and images from local, state and national databases. BIO-key's high-performance, scalable, cost-effective and easy-to-deploy biometric finger identification technology accurately identifies and authenticates users of wireless and enterprise data to improve security, convenience and privacy and to reduce identity theft. Over 2,500 police, fire and emergency services departments in North America use BIO-key solutions, making BIO-key the leading supplier of mobile and wireless solutions for public safety worldwide. (www.bio-key.com)
About RVPM Designs
RVPM Designs develops and distributes School Attendance Keeper(TM), a cost-effective, easy-to-use, streamlined school attendance program that helps schools meet the "No Child Left Behind" reporting requirements. (www.rvpmdesigns.com)
About identiMetrics
identiMetrics, a privately-held company headquartered in Malvern, PA is a leader in the development, integration and marketing of biometric fingerprint identification solutions. identiMetrics solution, identiFi(TM), is a comprehensive biometric finger scanning identification platform that provides a cost-effective and accurate biometric identification replacement for swipe card readers, bar code readers and PIN pads. identiFi(TM) eliminates the problems and costs created by cards and PINs and gives irrefutable proof of identification for security and record keeping purposes. identiMetrics is primarily focused on the unique needs and specifications of large niche consumer markets including education, retail POS, healthcare and hospitality. (www.identimetrics.net)