Biometrics and the Department of Defense
By Zack Martin, Editor, Avisian Publications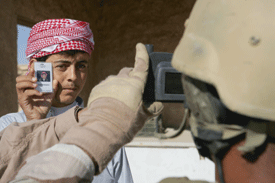 The U.S. Department of Defense has been a leader when it comes to smart cards with its Common Access Card, but the agency is also forward thinking when it comes to biometrics.
The Defense Department is using biometrics in a variety of ways, including overseas for access to bases, at crime scenes to collect forensic information and at some facilities in the U.S. for access control, says Lisa Swan, deputy director for the Defense Department's Biometric Task Force. The agency is even using multi-modal biometrics, a combination of face, fingerprint and others, to identify individuals in different circumstances.
The Biometric Task Force is a division of the U.S. Army but it works across the Defense Department to enable biometrics. Key to the agency's efforts is its next generation Automated Biometric Identification System (ABIS), which was launched Jan. 30 with the help of prime contractor Northup Grumman.
The ABIS is used in a variety of ways, including storing forensic evidence collected from crime scenes, Swan says. "We take latent fingerprints from improvised explosive devices, sniper rifles and store them in ABIS," she says. The database contains around 3 million records, including fingerprints, palm prints, photos and iris scans, Swan says. Previously the database stored just fingerprints.
ABIS incorporates multi-modal biometrics, Swan says, using more than one biometric technology to ensure a match. For example, ABIS could have a fingerprint and face record stored that might be partial records but not of the best quality. Yet, if this data is taken in context with other information it may be enough for a positive identification.
"You get a score on a fingerprint that's not high and a face that's not high, but fused together it will provide a potential match," Swan says. The FBI's next generation IAFIS will have similar functionality.
This feature and information can be useful when hiring individuals for jobs on U.S. bases abroad. Before being allowed on base soldiers collect the individual's fingerprints, iris and photos to run against ABIS, Swan says. "That print may be tied back to a latent print and that's something you want to know before hiring someone," she says. Fingerprints are also run against FBI files as well.
If a foreign national passes the background check he is then issued a smart card that contains his biometric information, Swan says. The card and biometric are verified each time he arrives on base. Soldiers in the field use handheld devices to collect and check the biometric information. There are around 6,000 devices deployed between Iraq and Afghanistan, Swan says.
Biometrics were also used to help residents of a village near Fallujah in Iraq, Swan says. The village was having problems with insurgents and asked the Army for help in identifying residents. "We identified everyone in the city, and issued them a credential with a biometric," she says. "People use that to gain access to their own space. You don't have to have one to get into the village but it's easier."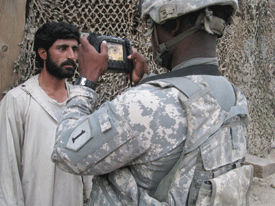 Not just used in theater
The Biometric Task Force is bringing the technology to the "friendly side" as well, says Swan. Biometrics are used at different points throughout the Defense Department for physical and logical access.
The task force has an iris solution deployed at its West Virginia location for physical access, Swan says. There are also small implementations of fingerprint and hand geometry for physical access at bases throughout the Defense Department.
Using biometrics with the Common Access Card is in future plans, but there's no timeline for deployment even though there are some applications, Swan says. "Biometrics and the Common Access Card will be used in concert," she adds. "For more secure applications you will see biometrics fairly soon, it's just a matter of what's practical and what you're trying to safe-guard."
And the Common Access Card will eventually be used with biometrics to access different computer records, Swan says. "The biometric could be used for access to health records," she concludes. "We'll see more and more of this. Our soldiers are mobile and this is something that could tie them to their record."