Biometrics catching in health care?
As health care providers move to electronic records, correct patient identification becomes a priority

By Zack Martin, Editor, Avisian Publications
President Barack Obama wants every citizen to have electronic medical records. One of the challenges in health care though is making sure the correct record is linked to the right patient and that the information is secure.
Smart card and biometric vendors are vying for position in the rapidly emerging patient identification market. One vendor who is tailoring biometrics to the health care market is Tampa, Fla.-based HT Systems. The company has taken Fujitsu's palm vein biometrics and customized it for health care and patient ID.
Palm vein biometrics uses infrared light to capture the user's vein pattern. Health care could be a good market for palm vein because it requires little to no actual physical contact with a scanner, unlike fingerprint biometrics. The scanner reads the palm vein pattern from a few inches away.
BayCare Health System and ValleyCare Health System have deployed the solution from HT Systems in the past year. Both are in the process of rolling out electronic medical records throughout their facilities and each saw the importance of accurate patient identification.
Mike Wisz, an independent health care IT consultant, says that patient identification can be tough for large health systems. Patients with common names, and duplicate records are all issues that providers have to deal with, he says.
Biometrics is one possible solution, Wisz says. But it may be a few years before there is widespread use of the technology. "Some people see biometrics as something a bit more futuristic," he says.
But for some the future is now. Tampa, Fla.-based BayCare Health System is in the process of transitioning its 3.1 million patient records to an electronic format, says James Shwamb, vice president of patient financial services at the provider.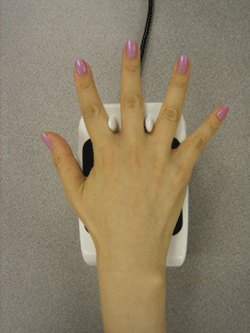 A big part of the initiative is to make sure the patient and medical record are correctly matched. "For us to bring all this to bear we have to be able to quickly and accurately identify the patients," Shwamb says.
Before the transition, if BayCare couldn't positively identify a patient it would start a new record, Shwamb says. This could lead to confusion as multiple records for the same name appear in the database. BayCare wanted something that could help assure identity.
Shwamb says executives looked at smart cards, but didn't think the carry rate would be high enough, and decided against fingerprints because of the stigmas surrounding that technology. "We found palm vein and it seemed to be a perfect fit," he says.
BayCare started the project in March 2008, says Lynda Gorken, director of management support at the health care provider. Since then the system has deployed 350 palm vein readers system-wide at nine hospitals, 11 clinics and 23 labs.
When a patient arrives at registration he presents a hand for authentication. If the patient isn't already enrolled in the system he must present a government-issued photo ID and other information, which is entered into the system. The patient also has the palm vein information scanned and entered. "It takes less than a minute," Gorken says.
Upon return visits the patient provides date of birth and the biometrics to check in for appointments, Gorken says.
Registering and using the system is voluntary, Gorken says, and so far BayCare has enrolled 140,000 patients. "Patient reaction has been positive, very few have refused," she says. "One patient refused and was given a pamphlet and then came back and enrolled."
Shwamb says patients were concerned about identity theft and saying their Social Security number in a crowded waiting room before an appointment. All patients need to do if enrolled in the palm vein system is state a date of birth.
Lowering the risk of identity theft is how Pleasanton, Calif.-based ValleyCare Health System is selling the system to patients, says Rogel Reyes, director of patient access at the health care provider.
ValleyCare launched the system on Sept. 30 at its two facilities, deploying 35 devices and as of March enrolling 13,000 patients. The health care system wanted to comply with "Red Flag Rules," which makes sure providers are doing everything possible to correctly identify patients, which went into affect last year, Reyes says.
ValleyCare's use of the palm vein system is otherwise similar to BayCare's, though Reyes says the hospital is looking at other applications for the technology. For example, if a patient is hospitalized his palm could be scanned for positive identification before medication is administered.
As patients and health care providers become comfortable with the biometric ID system, the opportunity for expanded safety, privacy, convenience and efficiency all can be improved.