Biometrics: roadmap to ubiquity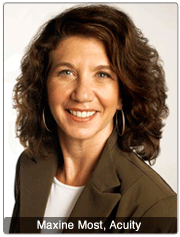 By Maxine Most, Principal, Founder, Acuity Market Intelligence
Biometrics has been considered on the verge of a significant breakthrough for more than ten years. In spite of relatively uninspiring industry results, recent developments – larger and wider scale adoption, significant capability and performance advancements, standards development, and consumer acceptance–indicate looming and substantial market expansion. How will this expansion occur and what will the road towards biometrics ubiquity look like?
The development path can best be understood in terms of market phases defined by solution and infrastructure milestones rather than technology or systems evolution.
Phase I: Biometrics are proven effective in well-defined, single purpose, autonomous applications.
This is where we are today. From time and attendance and access control to document credentialing–passports, ID cards–and background checks, a range of biometrics technologies have been efficiently and cost effectively deployed to solve specific identification and authentication problems.
Biometrics is also now being widely deployed in personal devices such as laptop PCs, mobile phones and PDAs. Though it is not being widely used in these devices–except in the Asian markets–this lays the infrastructure groundwork to support future market expansion.
Phase II: Biometrics Integration, fused biometrics, multidimensional identification, linked systems.
The next breakthrough will be about making biometrics work in broader ID contexts. This includes:
Merging multiple biometrics to produce fused identification results for high security applications.

Effectively incorporating various techniques and methods to produce multidimensional identification profiles based on any combination of biometrics, biographic, body marks, profiled behaviors.

Developing integration capabilities that allow two or more biometrics-based systems to securely and anonymously share identification information including those accessed by personal devices, such as PDAs. This is just beginning and will absorb significant market resources for at least three to six years, perhaps longer given the grim economic outlook.
Phase III: Anonymous, privacy-enhancing biometrics.
Slightly trailing Phase II will be the development of core technology, solutions, and systems-based methods for safeguarding the use of biometrics information. It is likely that in early Phase II development, serious real and/or potential security breaches will threaten expanded use of biometrics. Without aggressive, proactive, measures to create built in fail-safes at all levels of deployment, fear and public pressure may derail market expansion and even curtail growth of existing biometrics-based applications.
Phase IV: Biometrically enabled transaction infrastructure.
This is the Holy Grail for biometrics. Biometrics authentication will be routinely integrated into daily activities that require access to information or financial resources. From global financial institutions confirming asset transfers, to personal mortgage payments via mobile phones, from emergency requests for medical histories to consumers updating their health profiles, in the next seven to ten years biometrics will become invisibly routine, enabling a host of secure, private, and user controlled transactions.
There is no question that, as this market evolves, so too will the capabilities and performance of existing and new biometrics technologies. However, it is safe to say that the industry has passed the threshold of having to prove that the technology works even though it has had a somewhat checkered past. The focus going forward will be on creating the ecosystem that not only allows, but actually requires, that biometrics thrive.
---
About the AVISIAN Publishing Expert Panel
At the close of each year, AVISIAN Publishing's editorial team selects a group of key leaders from various sectors of the ID technology market to serve as Expert Panelists. Each individual is asked to share their unique insight into what lies ahead. During the month of December, these panelist's predictions are published daily at the appropriate title within the AVISIAN suite of ID technology publications: SecureIDNews.com, ContactlessNews.com, CR80News.com, RFIDNews.org, FIPS201.com, NFCNews.com, ThirdFactor.com, and DigitalIDNews.com.