Biometrics to control prison methadone distribution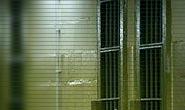 The UK Department of Health (DoH) is to install a biometric-based computer controlled methadone dispensing system (CCMDS) in 100 prisons in England due to the increasing numbers of patients.
Prisoners will be subject to a biometric fingerprint or iris scan before the methadone is dispensed. Participation is optional and the DoH said the system does not infringe human rights because does not physically store 'images' of biometric data – only the coding which enables an individual to be identified. The DoH has signed a framework contract with supplier NEC for the system, which local Primary Care Trusts will install.