Blackberry smart card reader okay for Common Access Card use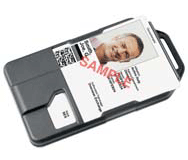 The U.S. Army and Booz Allen Hamilton have given a thumbs-up to the security of the new smart card reader for the Blackberry. The cool device can be worn on a lanyard, holds a Common Access Card or other smart card, and communicates via Bluetooth with the Blackberry for multi-factor authentication, encrypted email, document signing, and other security needs.
Booz Allen Hamilton Study for the Army Materiel Command Demonstrates That the RIM Bluetooth-enabled Smart Card Reader Meets US Army Security Requirements
MCLEAN, Va., July 11 /PRNewswire/ – Whether in the field or in the Pentagon, Army commanders want freedom of movement, and they want the technologies they use to increase their flexibility, not restrict it. Faced with restrictive connections between their BlackBerry devices and secure card readers, the Army turned to Booz Allen Hamilton to validate a secure solution for the BlackBerry Smart Card Reader.
The US Army, a global organization with both warfighting and business missions, is a world leader in deploying leading-edge mobile technologies to enable rapid decision making to support its missions. One such technology is the Research in Motion (RIM) BlackBerry device, of which the Army deploys tens of thousands to enable mobile voice and data communications.
To further enhance the security of the BlackBerry device and ensure that digitally signed and encrypted emails are accessible anytime, many Army personnel physically connect Common Access Card (CAC) readers to their BlackBerry devices. The current physical connection between the two devices creates a cumbersome mobile solution that is susceptible to multiple failures, thus threatening mission-critical communication. This situation created the need for small, durable, and secure CAC readers that provide Army personnel with the highest level of security without bogging them down with physical connections between CAC readers and BlackBerry devices.
The RIM BlackBerry Smart Card Reader connects to the BlackBerry through wireless Bluetooth technology to provide reliable, portable, and secure communication. This device is a potential solution to satisfy Army requirements, but it is not currently on the Army list of approved technology. The Army Materiel Command (AMC) Chief Information Office/G6 (CIO/G6) tasked Booz Allen Hamilton to perform security testing of the BlackBerry Smart Card Reader and to provide the necessary information to enable the Army to make an informed decision regarding future guidance and implementation of the device.
Booz Allen was tasked to perform a rapid 6-week evaluation of the BlackBerry Smart Card Reader and to focus testing on three primary areas: Bluetooth link between the Smart Card Reader and the BlackBerry device; potential attack vectors to the Smart Card Reader itself; and potential attack vectors to the Bluetooth-enabled BlackBerry device.
"By utilizing leading edge implementation of existing technologies AMC, through Booz Allen, has created a tidal surge, of which the Army much less the DOD has not experienced in decades. The ability to use untethered secure identity management tools will change the face of the DOD," said Rick Walsh, AMC CIO/G6 Deputy Information Assurance Manager.
Booz Allen employed rigorous testing methodologies for this project that have been proven and validated at numerous Department of Defense (DoD) and intelligence agencies. By coordinating with DISA, NETCOM, Army CIO/G6 and other DoD agencies, AMC with the help of Booz Allen, was "able to create a secure mobile environment for its military and civilian executives enabling them to communicate at any time and at any place," said Booz Allen Vice President Angie Messer.
"The BlackBerry Smart Card Reader test results will pave the way for secure wireless solutions across the spectrum from recruiting, to logistics and medical applications, to tactical communications and daily secure email and Web services," said Edison Lewark, AMC CIO/G6 Division Chief Strategy and Technical Implementation Division.
About Booz Allen
Booz Allen Hamilton has been at the forefront of management consulting for businesses and governments for over 90 years. Booz Allen, a global strategy and technology consulting firm, works with clients to deliver results that endure.
With more than 17,000 employees on six continents, the firm generates annual sales of $3.7 billion. Booz Allen provides services in strategy, organization, operations, systems, and technology to the world's leading corporations, government and other public agencies, emerging growth companies, and institutions.
To learn more about the firm, visit the Booz Allen Web site at http://www.boozallen.com/. To learn more about the best ideas in business, visit http://www.strategy-business.com/, the Web site for strategy+business, a quarterly journal sponsored by Booz Allen.