Bonnaroo adds social media feature to RFID wristbands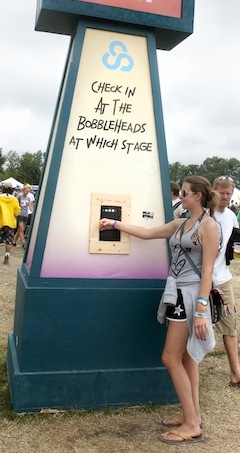 The Bonnaroo Music and Arts Festival sold more than 80,000 passes to the four-day event in Manchester, Tenn. Bonaroo is different from other multi-day concert events because attendees camp out at the site.
Instead of issuing tickets and scanning bar codes, the event has tickets encoded on RFID-enabled wristbands that concertgoers use to gain access to the concert grounds and other venues. This was the second year Bonnaroo used the wristbands for access but it also added some social media features that concert goers could use as well, according to Chad Issaq, executive vice president for business development and partnerships at SuperFly Marketing Group, which produces the festival.
Of the 80,000 tickets sold, some 74,000 individuals went online before the event and personalized the wristband with social media information, Issaq says. Bonnaroo enticed fans to customize by entering them for drawings to win VIP upgrades, merchandise packages, escort to the front row and other prizes.
At Bonnaroo the fan could then use the wristband to check into different stages and venues and there were more than 200,000 check ins recorded, Issaq says. There were 12 different locations near each stage and venue where individuals could tap and a status update on Facebook would be posted saying that they were at a certain stage seeing a specific performer. At the end of the day the individual would have a summary of the day also posted on Facebook.
The concertgoers' friends would be able to click on the events and access the playlists of the specific artists and be able to listen to the songs on Spotify, along with receiving a free 30-day subscription, Issaq says.
Next year Bonnaroo is thinking abut expanding the technologies use even further, adding a payment application to the wristband, Issaq says. Intellitix is the RFID wristband supplier for Bonaroo.