Boston's new contactless CharlieCard makes commuting easier for a million daily riders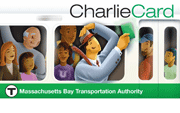 By Andy Williams, Contributing Editor
A transit card named after a character in a folk song has to carry with it a coolness factor. And, since the Kingston Trio made the song famous way back in 1959, why not have the group on hand when the card is first announced? And so it was when the CharlieCard, a contactless transit card for the Massachusetts Bay Transportation Authority, made its first appearance late last year, its name the result of a survey taken by the Boston Globe.
The CharlieCard is named after the title character in the 1948 folk music song, "Charlie on the MTA," written to protest a fare increase in the form of an extra five cent exit fare. Charlie didn't have the nickel it took to get off the MTA so, as the song goes, "…he was fated to ride forever 'neath the streets of Boston…"
It wasn't the only name suggested in the newspaper survey. Others included the "Fare Cod" derived from the way Bostonians pronounce "card," the "TGo Card" with the "T" the symbol for MBTA, and the "Bean Card," since Boston is also known as "Bean Town," as in Boston baked beans.
"But we didn't want to isolate it to Boston," said Scott Henderson, Massachusetts Bay Transportation Authority's systems project manager. "We service all of Massachusetts."
"We contacted the Kingston Trio (and) they came out and performed it when we kicked off the name in November, 2004," said Mr. Henderson. According to news reports, Massachusetts Governor Mitt Romney also participated in that sing-along.
Founded in 1896, MBTA's transit system is the country's oldest and fifth largest mass transit system as measured by ridership. The MBTA serves 175 communities, providing transit alternatives to a population of almost 4.7 million people over an area of 3,200 square miles. The authority serves 1.1 million passengers per day. To provide these services, the authority maintains 204 bus routes serviced by 1,200 buses, four rapid transit lines of heavy and light rail, one bus rapid transit line, four trackless trolley lines, 11 commuter rail lines, five ferry routes, and a paratransit service.
Host of reasons lead to the technology upgrade
By the mid-90s, MBTA knew it had to upgrade its antiquated fare collection system. "With our turnstiles, most of the manufacturers were out of business. It was hard to get parts. Fare evasion was also a major issue. And we wanted a better customer service presence," said Mr. Henderson.
Describing the speed at which the CharlieCard rollout occurred, Mr. Henderson states, "we shocked ourselves and the industry. We went from a token system with collectors to a stored value, ticket-based system, converting over 75 subway stations and more than 2,000 fare boxes." While installing a new infrastructure took a little longer, the cards themselves were produced and distributed in under three months.

Pre-encoding cards at the factory expedites issuance
A key to the quick release of the cards was that they were pre-encoded by MBTA's card supplier, Gemalto. The company issued some 2.4 million cards in the first three months, said Manny Menard, business development manager for Gemalto North America. "We were awarded the contract last July" and by December, distribution began, said Mr. Menard.
It intends to issue another 1.1 million over the life of the contract. Gemalto also has other transport projects around the world, including the Netherlands, Paris, London, Sao Paulo and Santiago.
Mr. Henderson admitted that MBTA was originally skeptical "about having someone else encode our card. We were looking at issuing the cards slowly, but with our new fare increase, we needed to get something out right away."
"Gemalto's role is to provide cards that are fully encoded and ready to go," said Mr. Menard. Well, almost. "Cards right out of the box will work with the (MBTA) equipment, but they have no value," he said.
Mr. Menard believes Gemalto was selected "because of the services we could perform, such as doing the actual encoding here in the U.S." The CharlieCards are produced in Gemalto's Montgomeryville, Pennsylvania facility, and as Mr. Menard points out, "transit agencies do make 'buy America' as part of their contract."
He said some transit agencies "take it upon themselves to do the encoding process, but having us do it saves them money. (MBTA) didn't have to buy encoding equipment. One piece costs between $500,000 and $800,000, plus you have to train the staff. We can do high volume because we have the equipment to do it."
He added: "If an agency chooses to do its own encoding, it is probably not as secure as we are. We're Visa- and MasterCard-certified. MBTA had to rapidly deploy 2.4 million cards. There was no way they could handle that internally. The agency has done a fantastic job getting the largest number of cards (distributed) in a short period of time. They focused their efforts on distribution and allowed us to perform the other pieces of the puzzle."
Limited distribution of the CharlieCard began in mid-2006 to senior citizens, disabled riders, and reduced and free-fare customers, but the full-scale rollout didn't begin until December, 2006. In January, 2007, MBTA started "flooding the market" with the CharlieCard, and to encourage its use, riders incurred a surcharge if they used cash to buy their tickets. Using the CharlieCard, says Mr. Henderson, "they could save 30 cents per ticket on the subway and 25 cents on the bus."
The contactless card can contain up to $100 stored value to purchase tickets. But the card can also track MBTA's massive menu of other riding options. "We have 50 different types of monthly passes we sell, including time-based passes," said Mr. Henderson. "A number of those are available on the CharlieCard. It's designed to have two purses for the time base product and one for cash." The card is also designed for expansion. "We took 50% of the real estate on the card. That leaves 50% available for future use." That could include parking "sooner or later" and merchant use. "If Dunkin Donuts wanted to team up with us and use the card, they could."
The card uses a 1K MIFARE chip from NXP. "We've delivered 100 million cards in transport and a good portion of that has been MIFARE," said Mr. Menard.
German-based Scheidt & Bachmann, a provider of management systems for mass transit and car parking, oversees the MBTA project from its U.S. office in Burlington, Mass. The contactless readers are supplied by On Track Innovations, Fort Lee, New Jersey.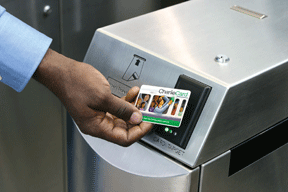 Additional benefits arise from the new program
One major advantage to the new card is that "we were able to move our collectors out of the booths and they became customer service representatives, helping customers work the machines," noted Mr. Henderson.
If a card is lost or stolen, MBTA can also "hot list" a card, which locks it out of the system.
MBTA offers a corporate program that companies can utilize for their employees. "We have 2,000 corporations that have signed up," said Mr. Henderson. Previously, MBTA had to send out passes to the companies each month. Now, one card takes care of everything. "We've saved $20,000 a month just on the shipping bill. Plus there were all those man-hours to package the passes each month." MBTA has distributed 100,000 CharlieCards to these corporate customers. "Once we do commuter rail, that will grow," he said.
What's next for the CharlieCard?
"We need to do commuter rail. We'll probably be doing that this summer," said Mr. Henderson. Because there are more than 130 commuter rail stops throughout the state, building up the infrastructure could be time-consuming. "We're looking at different options (including) handheld validation as a possibility aboard the trains," he added.
A web site is currently under development as well, which will allow CharlieCard holders to add value, check schedules, etc. If value is added, the next time the card is used, it will be updated. "We're looking at doing this sometime this year," Mr. Henderson said. "Once we have the website up and running, you'll also be able to opt in, so if your card drops below $5, we'll automatically load it up for another $20."
So far, customer feedback has been "very positive." Boston is, after all, "very tourist oriented," added Mr. Henderson.
So if, while riding the MTA, you happen to run across Charlie, slip him his namesake card and 'get him off that train.' Both he – and the Kingston Trio – will appreciate it.