Canada pushes forward with national livestock ID program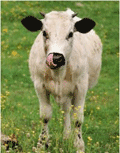 The Canadian Cattle Identification Agency (CCIA) has begun using RFID technology to identify and collect data on all cattle that come into Agribition.
According to Leader-Post, a total of 1,800 cattle in Agribition were each issued a radio frequency distribution ear tag chip. The RFID tag links unique animal data such as age, weight and other vital statistics.
Part of the traceability program deployed across Canada, information can also be stored in the CCIA database – vital information including the animal's birth date, herd of origin, vaccinations, weight, importing and exporting detail and information on the animal's breed.
The Canadian Food Inspection Agency (CFIA) can then use the information to identify prevent the spread of a disease outbreak. This protects the public health and food safety, allowing consumers to be ensured that their food is safe.
Read more here.