Canada's airports call upon contactless and biometric technologies to secure restricted areas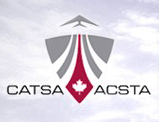 Since Sept. 11, 2001 when terrorists attacked the World Trade Center in the U.S., using airplanes as weapons of mass destruction, security has become the top priority at airports worldwide. While invigorated passenger screening was the most visible security implementation, another key has been to ensure that airport personnel–from baggage handlers to mechanics–are legitimate and authorized to enter secured locations.
A new project called RAIC is utilizing contactless cards from HID and biometric technologies from Bioscrypt and LG and will ultimately authenticate 150,000 airport workers across the countries airport facilities.
Two years ago, Canada created the Canadian Air Transport Security Authority (CATSA), to be responsible for the country's aviation security services, such as pre-board screening of passengers and their belongings; the acquisition, deployment and maintenance of explosives detection equipment at airports; federal contributions for airport policing related to civil aviation security initiatives; and contracting for police on board aircraft. CATSA is part of a $2.2 billion air security initiative adopted by the Canadian government in December 2001.
Brian Flemming, CATSA's chairman of the board, speaking to AVSEC World last November in Athens, Greece, explained that CATSA is a federal Crown Corporation regulated by a separate entity–Transport Canada–and is the only national security organization in Canada responsible for most areas of air transport security.
"We should be under no illusions; terrorism is evolving. We are witnessing the emergence of a new kind of terrorism where the ultimate goal is not to achieve a political solution to a grievance but to strike fear through killing innocent people and destroying financial/economic infrastructures and thus putting in doubt the safety of transportation systems such as air travel," he said. "There is little doubt therefore that air transportation will be a target of future attacks. The need to do more–faster and better–has never been so urgent."
He explained that one of CATSA's duties is to work with airports and airlines to prevent unauthorized access to restricted areas. "CATSA is responsible for screening non-passengers and for the development of an enhanced restricted area identification card that will incorporate biometrics," he added.
Fulfilling that objective, the authority's latest project involves its new Restricted Area Identification Card (RAIC), designed to screen non-passengers.
According to CATSA, the authority will establish screening checkpoints at entrances to restricted areas at major Canadian airports. Workers entering these areas will be subject to security screening and will not be informed when checkpoints will be activated. Non-passengers, such as airline flight crews, airport employees, caterers, maintenance personnel and ground handlers are all subject to random screening. The first phase of the RAIC program involves about 40,000 workers at selected airports but when fully operational will cover the 150,000 employees authorized to enter restricted areas at Canada's airports.
Announcing the efforts to screen non-passengers, Transport Minister Tony Valeri said: "While Canada already has one of the safest and most secure transportation systems in the world, we are committed to making ongoing improvements to the security of our transportation system and will continue to work with our partners to identify and implement security enhancements."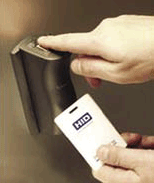 The RAIC card and system
Ottawa-based ACME~Future Security Controls was chosen by CATSA to develop the comprehensive solution for the operational trials of the RAIC project. Component providers to the project include Bioscrypt, HID, Cross Match Technologies, and LG Electronics.
Two types of biometrics are being explored–fingerprints (Bioscrypt) and iris scans (LG Electronics).
"Working with CATSA to develop a system that could be replicated the world over is a tremendous opportunity," said Bioscrypt's president and CEO, Pierre Donaldson. "We look forward to the successful completion of the trials."
Early indications were that the pilot would be completed by summer, but Mr. Donaldson doesn't believe that will be feasible. "I'm hoping the pilot will be done by the end of 2004; to do a proper job requires 90 days. Realistically, it might be the third or fourth quarter," he said.
The pilot will be conducted at airports in Montreal and Vancouver, Charlottetown on Prince Edward Island, and Kelowna Airport in British Columbia, he said. "About 40,000 people will be issued a smart card that will authorize access to the restricted areas in the airport," he added. In addition to fingerprints, it will also include iris scan technology. "They'll make a decision at the end whether to deploy only fingerprint or a combination of iris and fingerprint technology," he said.
"We're pretty confident at a minimum that there will be fingerprints on the card," he said, "because of the time required to do an iris identification. That's a reason CATSA decided to do both, to let employees decide, whether they'll prefer using fingerprints or iris scans."
Bioscrypt's V-Smart and V-Station products will be utilized in the project. V-Smart iClass already has a reader supporting HID's iClass smart cards, the cards selected for use in the pilot project. Bioscrypt's V-Station supports both standard and proprietary Wiegand communication formats and stores up to 3550 templates on the unit. It needs an optional reader to handle smart cards.
"We, as a company, have over 70,000 units in the field," said Mr. Donaldson, "with some five million touches per day. This is not science fiction … It works."
Bioscrypt technology is used by the U.S. Army, NASA, American Express, the New York Police Department, NATO, Continental Airlines, Intel, Atmel, HID Corporation, Honeywell and Northern Computers. The company's fingerprint technology is in use at several airports, including Little Rock National in Arkansas (V-Smart iclass), and Martin State Airport, Baltimore, Md. Another V-Smart installation is scheduled for Russia's largest airport, Domodedovo International Airport.
"Our focus is on identity verification in the marketplace," said Mr. Donaldson. "If you claim to be someone, prove it."
LG Electronics' IrisAccess 3000 iris recognition system will also be used in the pilot. According to LG, the Iris Access 3000 is flexible in its ability to accommodate cards and other configurations providing 2-factor authentication. Proximity cards, as well as contact and contactless smart cards integrate easily. The Canadian deployment will operate in a one-to-one mode meaning that the card will be used to tell the system which stored biometric template to check against the new record taken at the door (see Understanding Biometrics, SecureID News, March 2004).
The IrisAccess system is also used for tarmac and sensitive area access control at Schiphol (Amsterdam), John F. Kennedy (New York), and Frankfurt airports. LG Electronics is a subsidiary of South Korea's $60 billion LG Corp. and has been active in Iris recognition research development and production since 1997.
Merging these biometric technologies onto one card is the job of HID and its combination Prox and iCLASS 13.56 MHz contactless smart cards. According to HID, its cards met CATSA's strict requirements, including specific ISO compliance, the ability to accommodate multiple biometric templates in card memory, and the use of encryption. HID says its 13.56 MHz multi-technology contactless smart card supports existing 125 kHz proximity card readers in use, has contact chip upgradeability, and employs read and write capabilities along with an encodable magnetic stripe. For added security, HID's CATSA cards will be manufactured with anti-counterfeiting security features. HID will also utilize a secure delivery logistics program ensuring that cards remain in a secure, locked up, and bonded environment, the company said.
Commented Denis Hebert, HID president: "We are proud to have earned this strategic business relationship with CATSA. This reinforces HID's interoperability vision which is of particular importance for government ID card deployment worldwide."
As CATSA's chairman, Mr. Flemming, explained in last November's speech: "As the way in which terrorists might attack us changes, we in the security business must be imaginative, and try to stay one, if not many, steps ahead. We at CATSA know that there is no global one-size-fits-all solution and that each of us will pursue our security objectives on somewhat different paths. But our shared international goal will always remain the same–the creation of a safer, more secure and more efficient air transport system, both in Canada and around the world."
---
Additional resources: