Canadian Tire launches curved MasterCard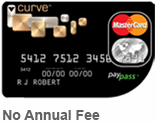 The new contactless credit card from Toronto-based Canadian Tire Financial Services and MasterCard Worldwide isn't rectangular shaped like most cards. It's shaped like its name, "Curve" and offers PayPass functionality and cash back rewards.
The card is manufactured by German smart card provider Giesecke & Devrient and is, according to a G&D spokesperson, "the first of its kind in Canada."
To celebrate the launch of the Curve MasterCard, Canadian Tire is holding a video contest for card members to demonstrate "how they stand out from the crowd." The grand prize is a trip for two to the Grammy awards show in Los Angeles.
The Curve MasterCard is being issued by Canadian Tire Bank, a subsidiary of Canadian Tire Financial Services Limited.