CardMan 3021 USB Contact Smart Card Reader now available in volume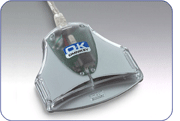 OMNIKEY is ready for mass distribution of its new CardMan USB mobile smart card reader that can connect to desktop PCs or laptops. Its slim form facilitates easy volume distribution in an envelope with credit cards, e-ID cards and application software. Some typical uses include digital signature and secure online banking or online transactions.
High-speed Data Transmission in a Slim Form for New Markets and Applications
Walluf –OMNIKEY, one of the world's leading manufacturers of innovative smart card readers, now offers the recently launched CardMan 3021 USB for mass order. With its refined stylish design it is ideally suited to bridge the world of desktop PCs and mobile devices with one single device.
Lightweight and easy to carry, it can be connected to a desktop PC as well as to a laptop, wherever it is used.
The reader does not need any auxiliary support and features a clever card insertion/extraction mechanism. A blue LED together with a transparent silver design gives the reader an appealing high-tech look and feel that fits well with modern PC equipment.
The slim form of the OMNIKEY CardMan 3021 facilitates easy volume distribution in an envelope with credit cards, e-ID cards and application software. Typical applications for OMNIKEY's mobile smart card reader include digital signature, secure online banking, secure online transactions, loyalty programs, healthcare solutions and more.
Though small in size, the CardMan 3021 follows the well-known quality standards of OMNIKEY, including reader-to-card data transmission rates of up to 420KBit per second. The reader complies with the most relevant industry standards.
The CardMan 3021 complements the OMNIKEY desktop reader portfolio and extends OMNIKEY's market coverage to segments where interoperability paired with mobility and highly competitive pricing is required.
About OMNIKEY
OMNIKEY, one of the world leading manufacturers of innovative smart card readers, offers the most diversified product portfolio available on the market today. OMNIKEY's smart card readers for PCs can be utilized by any application including logical access control, digital signature, WLAN authentication, secure banking and online transactions, loyalty programs, and healthcare solutions.
OMNIKEY, headquartered in Walluf, near Wiesbaden (Germany), is part of ASSA ABLOY Identification Technology (ITG). OMNIKEY's regional offices for North and South America reside in Irvine, California with technical support in Atlanta, Georgia. The Asia Pacific operation is located in Hong Kong. Design, production management, and quality control of OMNIKEY's products are carried out in the company's two R&D centers in Linz, Austria and Erfurt, Germany. OMNIKEY readers are distributed worldwide through a global network of partners, including value added resellers, system integrators, and OEMs. For more information please go to www.omnikey.com.
About ASSA ABLOY's Identification Technology (ITG)
ASSA ABLOY Identification Technology is focused on current and emerging solutions within the ID management and Radio Frequency Identification (RFID) markets and is one of the world's leading suppliers of RFID components, products, solutions, and services.
Typical applications that we serve are national ID and e-passport programs, physical and logical access control, supply chain management, animal tagging, transport, and various industrial and manufacturing applications.
Comprised of a dynamic group of companies including ACG Identification Technologies, Sokymat and OMNIKEY, ITG innovation spans the value chain of smart card technology and RFID systems delivering identification technology products. ITG's comprehensive range of products include RFID transponders, contact and contactless smart cards and readers, as well as value-added services to developers and integrators of identification management systems and solutions.
The SmartWorldAcademy in Prague uniquely positions ITG at the forefront of the secure identification industry. ITG's headquarters are located in Walluf, Germany. ITG is part of the Global Technologies Division of the ASSA ABLOY Group, the world's leading manufacturer and supplier of locking solutions listed on the Stockholm Stock Exchange with some 30,000 employees and annual sales of about EUR 3 billion. For more information, please visit www.assaabloy.com.