CardSmith rolls out city-wide college card program in Boston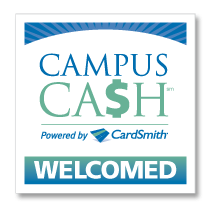 Campus card services provider CardSmith has launched its new Campus Cash program in the Boston metro area that enables students from the 10 colleges and universities serviced by CardSmith to use their prepaid spending account on their ID Card to make purchases at a network of accepting locations.
Participating off-campus businesses in Boston, Cambridge and Newton, can accept ID Cards from all of the campuses with a single card terminal. Activity from all schools is settled in a single ACH direct deposit to each merchant every business day by CardSmith. Individual colleges can choose which of the card-accepting locations on their campuses will accept ID Cards issued by other colleges, and whether cards they issue can be used at other campuses.
CardSmith has introduced the Campus Cash service mark and acceptance signage to identify participating merchants and branded the program Web sites it manages for each campus card program.
"When students from all of our campuses see the Campus Cash sticker on a merchant's window, they know they can use their ID Card as a form of payment there," said CardSmith President Jay Summerall.
One of those merchants is Symphony Market on Massachusetts Avenue near Berklee College of Music. "When we started a few years ago, we just saw ID Cards from Berklee, but now I also get regular business from students from the other colleges too," said owner Andy Patel.
"We believe this is the only program where students use their ID cards on other campuses at accepting locations like dining venues, vending machines, even laundry rooms," said Summerall.
Currently participating Campus Cash colleges and universities include Berklee College of Music, Wentworth Institute of Technology, Simmons College, Emmanuel College, Lesley University, Art Institute of Boston, Mount Ida College, Massachusetts College of Art, Massachusetts College of Pharmacy and Health Sciences, and Wheelock College. All new CardSmith clients in the Boston area are also eligible to join the Campus Cash network which now includes more than 500 merchant locations.