Carriers wait on NFC for new BlackBerry Bold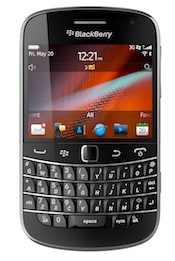 Three of the four carriers of Research In Motion's recently announced BlackBerry Bold 9900/9930 are offering the handsets without NFC technology, according to FierceWireless.
AT&T, T-Mobile and Verizon failed to mention NFC in their press releases announcing the launch of the new handset—Sprint was the only one— yet all four carriers have demonstrated interest in supporting the technology.
When reached for comment, a T-Mobile spokeswoman told FW that "although we're not enabling NFC capabilities at launch, we are working with RIM on future options related to NFC."
An AT&T spokesman added that the company's involvement in Isis is a clear indication of their support for NFC.
Sprint did mention NFC in their release for the 9930 and told FW that they "are actively exploring NFC capabilities with others in the area of mobile commerce."
Which leaves RIM, who released this statement: "RIM believes that NFC is an exciting technology that will enable many new capabilities, and we are aligning with our partners in supporting the overall NFC ecosystem by investing in NFC in our products. The BlackBerry Bold 9900 series are the first to be NFC ready and we are working closely with carrier partners on their roll out plans for NFC."
Read more here.