Casio to launch NFC-enabled handheld terminal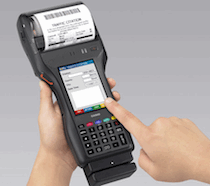 Casio Computer Co. has announced the development of a new NFC-enabled IT-9000 handheld terminal with printer module.
Slated to launch this year, the IT-9000E-MC25E is built for a range of operations that require mobile printing, such as mobile point of sale, receipts for public transportation, ticket and traffic violation issuance and field force automation.
The all-in-one handheld terminal operates on Windows Mobile 6.5 and is equipped with a thermal printer, NFC reader/writer for contactless smart cards and 13.56MHz RFID tags, a C-MOS imager for scanning 1D bar code and 2D codes, and a magnetic card reader.
According to Casio, the NFC reader/writer can be used to verify an operator's login status with a contactless smart card, and secure access module (SAM) slots are available for boosted security.
Casio's IT-9000 series also includes the IT-9000E-C25E, which does not include an integrated magnetic card reader.