Caution, belt-tightening ahead in biometrics but government-backed projects will move ahead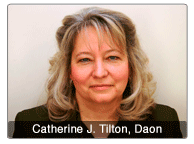 By Catherine J. Tilton, Vice President, Standards and Emerging Technology, Daon
Despite recent financial downturns, government biometrics projects continue to move forward, albeit with typical government delays, but that is nothing new. And while biometric companies come and go and merge, are they mainstream yet?
We now see biometrics offered in consumer products such as cell phones, household door locks, safes, gun cabinets, garage door openers, thermostats, and mailboxes. Facial recognition is used to find faces in photos and videos online. Speaker verification is sometimes used to recognize our voice when we contact a call center. When do we cross over from fad to trend?
This year has seen significant growth in the area of mobile biometric devices. Not only are the number and models on the rise, but also they are increasingly becoming multi-modal. More models are incorporating not just one or two biometrics, but many now include the triumvirate–finger, face, and iris. This is in addition to other related technologies, such as smart card and passport readers, wireless communications and onboard databases.
Biometric enabled credentialing systems, which were pioneered in a number of civil government initiatives around the globe, are now being picked up in the corporate world. Now that the biggest kinks are out, interoperability has been addressed, and the costs have come down a bit, this technology is more feasible and shows a quantifiable business benefit.
Corporations, especially those with employees in geographically dispersed offices, need a way to perform enterprise-wide employee (and contractor) identity management and physical/logical access control. Though possible with PKI enabled smart cards alone, many are recognizing the value of including biometrics as part of the solution.
Biometrics will also continue to play an increasing role in immigration and border security. In addition to the traditional enforcement capacity, they are now being seen and used to meet business objectives while improving customer service. Governments are also looking at cross-agency sharing or consolidating of identity information and the infrastructure implications for doing so.
It seems that everyone has their own ideas of what "identity management" means, particularly when it comes to biometrics. In the IT world it has been more about provisioning and user authentication. In the larger context, it is about identity assurance – having confidence in an identity when it is established and ensuring one person, one identity. I believe this difference, and the continued lack of acceptance by the cryptographic community, has kept biometrics from securing the solid position in this domain that it deserves. However, a number of initiatives have gotten off the ground this year to address the issue.
Another area that appears to be on the rise is biometric product qualification testing, as opposed to algorithm performance testing alone. This includes the accreditation of testing laboratories, specifications and standards against which to test, and programs beginning to require the use of qualified products from a qualified products list. This has now extended beyond the traditional FBI Appendix F-certified devices that targeted forensics applications.
What does 2009 hold for us in the biometrics arena? In a belt-tightening climate that portends to continue into next year, I look for the biometrics market to become more fiercely competitive. This is not necessarily entirely bad, although research and investment funds may be sparse and we may lose a few companies with good ideas along the way.
The real competitors will dig deep and find ways to break through some of the inhibitors we've seen in the past. Look for further consolidation next year, however. Also look for many of the trends identified in 2007 and 2008 to continue, such as a movement towards SOA and Web services, adoption of standards, and an increased focus on privacy and security.
---
About the AVISIAN Publishing Expert Panel
At the close of each year, AVISIAN Publishing's editorial team selects a group of key leaders from various sectors of the ID technology market to serve as Expert Panelists. Each individual is asked to share their unique insight into what lies ahead. During the month of December, these panelist's predictions are published daily at the appropriate title within the AVISIAN suite of ID technology publications: SecureIDNews.com, ContactlessNews.com, CR80News.com, RFIDNews.org, FIPS201.com, NFCNews.com, ThirdFactor.com, and DigitalIDNews.com.