Checkpoint deters shoplifting with RFID-based EAS solution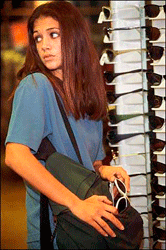 At this year's NRF Loss Prevention Conference & Expo, Checkpoint Systems debuted the RFID-based EAS solution designed for apparel retailers – RFID Overhead EAS.
The RFID-based EAS solution includes overhead hardware with specialized on-board filtering software, as well as new RFID hard tags and labels developed to deliver real-time inventory visibility and enhanced loss prevention.
The solution enables retailers to know actually what was stolen, including the quantity and the dollar value. Encoded tags also enable retailers the ability to ignore other retailer's tags, which reduce false alarms and increase customer satisfaction.
Combined with Checkpoint's Merchandise Visibility Solution, retailers can also enhance deterrence by displaying an image or description of the items that were stolen, warning shoplifters of the presence of a more sophisticated system, and causing them to recalculate the risk.