Clear Channel to put NFC in London advert screens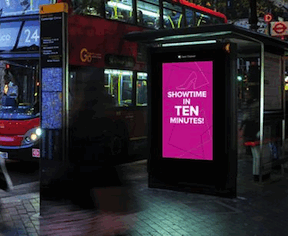 Clear Channel has announced plans to deploy a network of 100 NFC-enabled London Digital 6 (LD6) Sheet advertising screens in London's busiest areas.
Slated for launch on Nov. 28, the 72″ HD screens will seek to provide more interactivity with target audiences through social media and NFC, the company said in a release. Presumably, the technology will allow NFC handset users to tap the displays to receive offers from merchants or other media.
In addition to adverts, the screens may also be used for real-time updates such as news, weather, travel and links with social media, according to Clear Channel.
The LD6 network will be deployed throughout London's shopping areas (Oxford Street, Upper Street, Shepherds Bush Road, Victoria Street and Baker Street), entertainment districts (Cambridge Circus, Aldwych, Shoreditch High Street, Camden High Street and Clapham High Street), transport hubs (King's Cross, Euston, Victoria and Clapham Junction) and wealthier neighborhoods (Wandsworth, Hammersmith, Islington and Westminster).