Closed-loop applications will drive contactless growth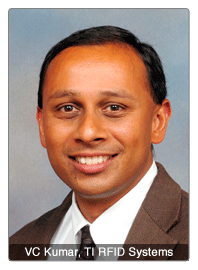 By VC Kumar, manager of Government ID, Texas Instruments RFID Systems
Most industry veterans associate closed-loop RFID systems, where tagged objects do not leave a single organization's control, with niche, supply chain-related applications. As of late, however, companies and governments around the globe are opening up to closed-loop secure contactless applications for micropayment, loyalty and membership, ID and access control.
Closed-loop contactless applications offer faster implementation and a quicker path to return on investment than open-loop ones. However, they demand security, speed and flexibility from the implementation.
The appeal of this closed-loop technology lies in its ability to be implemented without the need for standard system wide and multi-party interoperability. This equates to a quicker design cycle, faster implementation and speedier ROI. For system users, however, the benefit is found in the convenience, speed and security of the closed-loop systems. Three major areas of growth, where both merchants and consumers are realizing the benefits of closed-loop contactless systems, are:
Stored value and micropayment: contactless cards containing a set dollar amount are used for a variety of purchases and, in the case of micropayment, for stored value payments of amounts of money too small to be efficient for individual credit card transactions.
For example, Chinese systems integrator Lierda is equipping household electric, gas and water meters in China with a contactless reader integrated circuit module and microcontroller to enable contactless pre-payment of utilities. In this electronic metering application, residents purchase cards from a kiosk that contain a contactless chip module stored with a pre-paid amount. The cards are waved in front of the meters to activate them, and the amount chosen by the customer is debited from the card.
Loyalty and membership: these types of contactless cards provide the speed, convenience and cross-branding opportunities needed in places that value it most: fast food restaurants, convenience stores, pharmacies, fitness clubs and grocery stores.
Access control and identification: for access to an office building, university classroom, hotel room or the like, contactless access control cards eliminate some of the headaches often associated with traditional contact-based cards or badges, such as magnetic stripe.
For example, as anyone who's spent much time in hotels knows, magnetic stripe cards can be demagnetized by cell phones and other electronic equipment, rendering them useless. Contacts on the reader or card can also get dirty creating more maintenance/support costs. With contactless cards, you know the card will work properly and provide a more secure access point.
These closed-loop applications, which have seen a lot of uptake, particularly in Asia and in Central and South America, can be implemented individually or in combination on the same card or token. For instance, a retailer can implement customer payment and loyalty, or a university campus may combine building access, payment and secure student and employee ID.
But for widespread adoption of closed-loop systems to occur, and for implementations to succeed, there are some key challenges and system attributes that must be taken into account:
Robust, Reliable transactions – the system must work the first time, every time for the consumer who is passing his card or token by a reader, otherwise consumers will look for alternative solutions.

Fast transaction speeds – one of the main value propositions for the consumer is the convenience of the solution and this is dependent on the speed of the transaction. If it's not fast, it's not convenient.

User flexibility – the system should have configurable memory which allows merchants, retailers and service providers to adapt to changing needs over time by updating information or adding more capabilities to the system.

Brand leverage and cooperation – to support multiple applications/services on one card or token, which increases the value to the customer, there must be cooperation between merchants/service providers.

Security – this provides peace of mind to consumers and end users and is driving the need for proven standards-based cryptography.
Closed-loop contactless systems developed with these five considerations in mind will drive the contactless market forward and enable a multitude of applications that make everyday tasks faster, more convenient and more secure while also delivering a faster ROI for service providers and end users/merchants.
---
About the AVISIAN Publishing Expert Panel
At the close of each year, AVISIAN Publishing's editorial team selects a group of key leaders from various sectors of the ID technology market to serve as Expert Panelists. Each individual is asked to share their unique insight into what lies ahead. During the month of December, these panelist's predictions are published daily at the appropriate title within the AVISIAN suite of ID technology publications: SecureIDNews.com, ContactlessNews.com, CR80News.com, RFIDNews.org, FIPS201.com, NFCNews.com, ThirdFactor.com, and DigitalIDNews.com.