Coca-Cola uses RFID to revolutionize beverage dispensers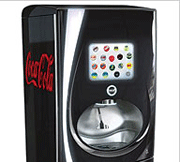 Coca-Cola has released its new RFID-enabled Freestyle fountain drink dispenser for beta testing in Atlanta and Southern California area restaurants.
The Freestyle uses Impinj's RFID technology to offer over 100 different beverage varieties in the same amount of space as a standard eight-valve machine.
The secret is in the concentrated flavor cartridges that dispense a minute amount of high concentration ingredients. These cartridges take up far less space than the traditional 5-gallon syrup bags, creating room for a much wider drink selection.
However, with more beverages comes the problem of more maintenance. Coca-Cola found the solution in RFID. Each individual cartridge comes from the plant marked with a passive RFID tag. Readers within the machine track the cartridges and make sure that they are installed properly and keep tabs on their contents.
The machine also uses RFID to record the number of times a particular drink has been selected and relays the data back to Coca-Cola. The machine uses this data to keep track of how much flavoring remains in each cartridge.
When a cartridge needs replacing the employee holds a new cartridge up to the machine. A reader records and verifies the RFID tag on the cartridge and releases the door lock so the employee can access the cartridges. The machine will then illuminate an LED light above the cartridge needing replacing. From there it's a simple matter of taking out the old one and popping in the new cartridge.
The Freestyle, which took four yeas to develop, also features a touch screen interface for beverage selection.
Coca-Cola is currently planning a wider introduction of the Freestyle for early next year.
Read more here.