Columbia taps Digital Angel for cattle ID program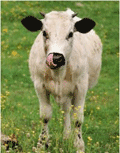 Digital Angel announced that through its subsidiary Destron Fearing it has been approved to supply RFID-equipped animal identification technology to support a government cattle identification program in Columbia.
Destron Fearing RFID tags and DTR4 handheld readers will be used to help SINIGAN, the government organization responsible for cattle identification in Columbia, track and identify the current population of approximately 30 million head of cattle. The initial order consists of 200,000 visual and electronic tags and a number of readers.
In February 2011, SINIGAN intends to begin operating a new cattle identification system, and farmers and breeders associations are expected to purchase identification tags and readers through ERAGRO LTDA, the Colombian distributor of Destron Fearing products.