Combined mobile payment & banking solution to be deployed later this year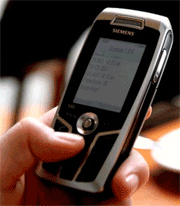 ViVOtech and mFoundryLater this year, two companies will release an integrated solution providing a complete mobile banking solution allowing NFC payments as well as secure banking over a mobile phone. ViVOtech and mFoundry will work together to provide virtually all mobile financial services to wireless customers. When combined consumers will have a simple new way to use their mobile phone for contactless payments and banking. This joint solution is intended to provides wireless carriers with a single integrated capability for mobile banking, commerce initiatives, and contactless payments.
ViVOtech and mFoundry to Work Together For A Combined Mobile Payment & Banking Solution
Mobile Payment and Banking Technology Leaders, ViVOtech and mFoundry, to Integrate Their Platforms to Deliver a Single and Easy Solution for Mobile Consumers
Mobile Commerce Summit
LAS VEGAS–Santa Clara, CA based ViVOtech, the leading supplier of contactless/NFC mobile payment solutions, and Sausalito-based mobile platform provider mFoundry, announced today their decision to work together to provide mobile financial services to wireless customers. mFoundry's and ViVOtech's technologies, when combined, give consumers a simple new way to use their mobile phone for contactless payments, banking and commerce.
ViVOtech's products are actively deployed by some of the world's largest retailers, banks, and wireless operators and mFoundry's Spotlight Financial Platform is used by some of nation's largest banks and wireless operators. Spotlight is a mobile financial platform available that serves the needs of both operators and financial institutions, and has been designed to immediately accommodate nearly any type of financial transaction. ViVOtech's innovative solutions include over-the-air (OTA) provisioning infrastructure software for cards and promotions, Near Field Communication (NFC) mobile phone payment, and transaction management software. This joint solution provides wireless carriers a single integrated capability for mobile banking and commerce initiatives and contactless payments.
"Our platform has consistently set the standard in customer usability, performance and security for contactless, NFC mobile phone payments and OTA provisioning of cards and promotions." said Michael Mullagh, CEO of ViVOtech. "Through this collaboration, we provide a single mobile phone application for payments, promotions, and financial services functions that make a lot of sense to a rapidly growing consumer base. We are offering operators and financial institutions a simple, powerful and equitable way to leverage the increasing mobility of today's lifestyle."
"While mobile banking is building the foundation for trust between a consumer and their mobile device, NFC phone payment is an attractive and inevitable way to truly elevate the benefits of mobile financial services," said Drew Sievers, mFoundry's CEO and co-founder. "As the clear leader in all things contactless and NFC, ViVOtech is a key partner for mFoundry."
The parties expect to release an integrated solution into the market later this year.
For more information, please visit www.mfoundry.com or www.vivotech.com.
About mFoundry
mFoundry is an award-winning mobile application platform provider. mFoundry's Spotlight Financial Platform offers a complete financial services solution for financial institutions, wireless carriers and their customers. Spotlight incorporates mFoundry's leading mobile banking and payments product into the platform and has been adopted by some of the largest banks and carriers in the US. For more information, please visit www.mfoundry.com.
About ViVOtech
ViVOtech (www.vivotech.com) is a market leader in contactless/NFC payment software, over the air (OTA) card provisioning, promotion, and transaction management infrastructure software, NFC smart posters, and contactless readers/writers. These innovative solutions allow consumers to make contactless payments with radio frequency-enabled credit cards, debit cards, key fobs, and NFC-enabled mobile phones. ViVOtech's products are used by some of the most prominent retailers in the United States. Currently, with more than 260,000 units in 23 countries, ViVOtech's products are in use at movie theaters, fast food restaurants (QSR), casual dining establishments, convenience stores, gas stations, drug stores, grocery stores, buses, taxicabs and vending machine locations, enabling a wide variety of businesses to accept contactless/NFC payments. In 2007, ViVOtech was named #1 in New ABI Research contactless reader ranking. ViVOtech was also recognized as Top Contactless Payment Technology Vendor in Aberdeen Group's "Retail Contactless Payment Report".
Near Field Communications News and Insight
Explore more developments dealing with the implementation of Near Field Communications, a short-range wireless technology that promises to revolutionize contactless identification, payment, access, and more.
Click to visit NFCNews
.