CommBank reveals Pi POS platform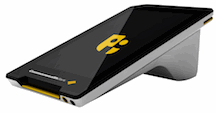 Australia's Commonwealth Bank has unveiled a trio of new solutions – including a software platform, iOS add-on device, and a point of sale terminal – designed to change the point of sale experience for merchants and customers
The new software platform, CommBank Pi, enables application developers and businesses to create Android apps and distribute them to merchants through CommBank Pi's AppBank. These apps can range from a bill splitting program for dining customers to an inventory tracking app for retailers.
CommBank Pi apps will run on Albert (pictured), an Android 4.0-based point-of-sale device that features a touchscreen interface, 3G and Wi-Fi connectivity. In addition to running Pi apps, Albert will allow businesses to process all types of transactions including swipe, chip, contactless, PIN and NFC, as well as bar codes and QR codes. According to CommBank, Albert will be up for certification this year, with expected general availability in Q2 2013.
Both the Pi platform and Albert were engineered with the help of IT and design companies Wincor Nixdorf and IDEO.
For iOS users, CommBank has announced Leo, an add-on device that brings Pi functionality to the iPod Touch and iPhone4/S. Leo uses technology from Ingenico to transform these devices into a payment terminal that accepts EMV Chip and Pin, magstripe and contactless payments. According to CommBank, the device is currently being piloted and will be available to other businesses next month.
Read more here.