Commercial Safety Alliance to settle issue on tagging trucks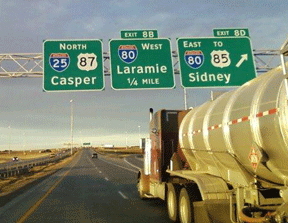 According to eTrucker.com, The Commercial Vehicle Safety Alliance (CVSA) executive committee will meet August 18th to determine its position on requiring electronic ID tags on all commercial interstate vehicles.
In January, the alliance's Intelligent Transportation Systems Committee drafted a petition asking the Federal Motor Carrier Safety Administration (FMCSA) to adopt an amendment requiring every interstate commercial motor vehicle to be equipped with an RFID device in the form of a windshield decal. The RFID tag would communicate an identification number when prompted by roadside system, an exchange that would supposedly streamline the screening process, according to the petition.
However, in April the Alliance Advisory Committee strongly cautioned it against petitioning the administration for the amendment. The CVSA executive committee has agreed to meet August 18th to reassess its position.
Although most states have already installed electronic screening technology, participation is voluntary and it is estimated that fewer than 15% of all U.S. trucks participate.
Read more here