Confident Technologies delivers image-based, multi-factor authentication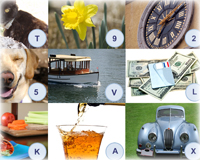 The human brain is naturally better at remembering categories and recognizing images than remembering long strings of random alphanumeric characters. That is why Confident Technologies has made available ImageShield, an image-based authentication solution for strengthening passwords on public-facing Web sites and Web-based applications.
Designed to thwart off keylogging malware, phishing and brute force attacks, this cloud-based, multi-factor authentication service creates one-time pass codes by prompting users to correctly identify pictures from a dynamic grid of images presented during login.
When a user registers on site for the first time, they choose from various categories of images such as dogs, cars and flowers. Each time the user logs in they are presented with a randomly generated grid of images and the user looks for the images that fit their chosen categories and enters the corresponding letters or numbers that appear in the images to form a one-time pass code.
The specific images, their location on the grid and the corresponding alphanumeric characters are different every time, creating a unique pass code for each authentication. All this, while the user only needs to remember a few simple categories of dogs, cars and flowers, in this case.