Connected wristwatches on the horizon?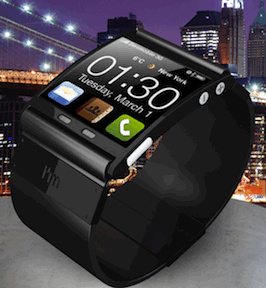 Could the smart phone of the future really be a smart watch? That's the way Fastcompany.com sees it.
With the unexpected DIY success of the iPod Nano Touch as a wristwatch (there's even a Web site that modifies the device for you), it's entirely feasible that Apple may throw some chips into developing a connected smart watch, joining Fossil's Bluetooth-connected MetaWatch and Italy's new Android-powered touch screen I'mWatch (pictured).
According to Fastcompany.com, such a watch could feature a forward facing camera for FaceTime calls, NFC connectivity for tapping and paying at the point of sale, or even other motion sensitive features like rejecting a call by shaking your wrist.
This is still a ways off, if it even comes to fruition, as the current Nano features zero connectivity and can run only a few proprietary apps. However, Apple is planning an update of the device which may include an added camera and – an even longer shot – perhaps Bluetooth 4.0, which Apple is including in a lot of its new gear, according to Fastcompany.com.
Read more here.