Contactless payment innovators, Dexit and SST (PowerPay), ink deal to share applications and cooperate across borders
&t

Two companies manufacturing complementary contactless products are making it easier for each to do business in the other's country of origin. It helps that the two countries are adjacent to each other–Canada and the United States.
"What this represents is the bringing together of two solution components meant to be together in the market," said Michael Richardson, president and chief operating officer for New York City-based Smart System Technologies (SST), which manufactures the PowerPay prepaid contactless token currently in use at several National Football League stadiums. The other company is Toronto-based Dexit, which offers pre-paid contactless tokens designed for low-value transactions, such as a meal, newspaper, or cup of coffee.
&t"We have Dexit prepaid solutions for small value payment transactions combined with the loyalty and marketing capabilities of SST," added Mr. Richardson. "Merchants benefit and can build a deeper relationship with customers who patronize their stores and can reach out to customers to motivate them for doing business with them.;
Details of the new business agreement
In the agreement, announced in early March, SST has appointed Dexit as its preferred supplier of prepaid functionality for everyday purchases in the United States. Likewise, Dexit has appointed SST as its preferred supplier to offer SST loyalty and reward services in Canada.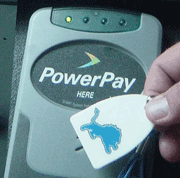 SST's PowerPay combines contactless payment capabilities for consumers along with loyalty and customer relationship management for merchants, retailers and sports properties. The PowerPay platform provides a transaction management and marketing system that allows merchants to track and reward consumer purchases.
Dexit President and CEO Renah Persofsky, said the new agreement will help Dexit "obtain new consumers and increase the company's value." Dexit, she said, is positioning itself to be an "incentive cash offering. We have partnered with Bell Canada, that has increased what we're doing here. We have relationships with over seven million consumers in Canada and 500,000 merchants," she added. The Dexit prepaid token is available via a stick-on tag for cell phones as well as the typical key fob style token carried in a customer's pocket or purse.
"This is very much a case where the sum will be greater than the total of the parts," she said. "Given SST's position in the United States, we view this arrangement as a critical next step to entering that market."
SST and Dexit plan to create a solution that combines the SST loyalty product and the Dexit prepaid payment service into a single offering. Together the companies plan to offer the combined solution to customers in their respective markets.
"The Dexit approach is a great way to replace anonymous cash transactions in the market place," said Mr Richardson. "Our experience in the U.S. market has demonstrated that those retailers who operate in cash intensive environments see a lot of value in making those transactions into a more meaningful experience with their customers. The more they can understand consumer behavior and can influence that behavior proactively, the more effective it will be."
Ms. Persofsky said the new agreement "will enhance our market significantly. Loyalty is a key component that is required for our company. We've been out in the market place looking at different offerings and we couldn't find anything that compared to SST."
PowerPay has had full stadium roll outs in Philadelphia, Detroit, and Seattle. "We're beginning to roll out to retail establishments during this quarter and next," said Mr. Richardson. "We're adding merchants beyond the sports community."
He said consumers have "reacted positively" to the company's PowerPay key fob that complies with the ISO 14443 standard. The company is also experimenting with Near Field Communication (NFC), thanks to a partnership with Philips. NFC, he believes will eventually end up in other environments besides cell phones, such as key fobs.

Supporting each other across borders
"We will be supporting Dexit in Canada as their preferred partner. We'll be providing a back-end service for Dexit. Consumers in Canada will be using a cell phone button or tag fulfilled by Dexit, but the loyalty and promotional components will be supplied by SST," said Mr. Richardson. "We'll be partnered in such a way that we'll be providing the capability through the Dexit interface. You won't see us out there fulfilling PowerPay tags in Canada or putting readers on counter tops."
In the U.S., "Dexit will be our preferred reloadable prepayment solution," said Mr. Richardson. "SST will be out there fulfilling tags to consumers…and getting the infrastructure in place. This complements what we've done with PowerPay, as a credit card surrogate. We can bring a lot of value to cash intensive merchants. It's a great entry point into the retail market where the average order size is small. The value proposition that Dexit has been representing to Canadian citizens is appropriate here."
Canadians are happy not having to carry cash," said Ms. Persofsky of Dexit's prepaid tokens. "They're not looking to replace their cash with credit cards. It's an alternative to credit cards and cash. Per capita, Canadians are the highest users of debit in the world. That's why we came out with Dexit, because you don't want to have to buy coffee with a credit card."
"Part of the appeal to Dexit," added Mr. Richardson, "is that both of us have been fundamentally multi-merchant in focus." A good example is the gift card. Most are only useable at one merchant–the place where it's purchased. "But the big trend here is that it's a much more functional mechanism for consumers" to have a gift card that can be used in multiple places, he added.
The future for the agreement … and the companies
While PowerPay tokens currently number in the thousands, Mr. Richardson expects that to grow significantly this year. "We'll continue to pioneer our multiplications. We were the first to be out there with dual acceptance. (A reader) can take both MasterCard's PayPass and PowerPay," he said.
There are over 50,000 registered consumers using Dexit, said Ms. Persofsky. "We anticipate significant growth this year in Toronto and Montreal."
"Our goal," said Mr. Richardson, "is to remain compatible at the infrastructure level; just like the payment terminal industry learned decades ago. In the early days each system had a different mag stripe; and different readers. Today, a single mag stripe reader can read all cards. And the global market for contactless has matured with VISA and MasterCard adopting the 14443 standard. That will continue to drive down the cost of the infrastructure."
Added Ms. persofsky: "We bet on the (14443) standard two years ago and it looks like we made the right choice." The market Dexit is shooting for is "untapped," she added. "The average Dexit transaction size is $4 (among 400 merchants). It's a market that hasn't had a viable solution." The average PowerPay transaction is $12 to $15, said Mr. Richardson.
"The other area we're focused on is the youth market place. They still don't have bank accounts and they're looking for a cash replacement," said Ms. Persofsky.
---
Additional resources:
Near Field Communications News and Insight
Explore more developments dealing with the implementation of Near Field Communications, a short-range wireless technology that promises to revolutionize contactless identification, payment, access, and more.
Click to visit NFCNews
.