Contactless, RFID, and NFC in tandem bring new opportunities in '05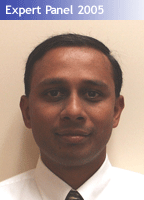 A panel of ID industry experts provided predictions for 2005. One of these glimpses into the future will appear here each day during December.
by VC Kumar, strategy manager for contactless commerce, Texas Instruments RFid Systems
In the coming year, we expect exciting advancements in short-range "proximity" wireless communications between consumer devices, with the combination of RFID and near-field communication (NFC) technologies. While much of the attention on RFID in 2004 has focused on retailer mandates and government passport requirements, its use in contactless commerce applications has continued to grow, with the expansion of credit card and bank issuer pilots, and amusement and sports venues adding RFID to make consumer purchases faster and easier.
With new NFC applications and protocols in development, and set to be finalized in the coming months, we will see innovative trials of short-range wireless interaction in applications for consumer electronics, mobile devices, PCs, smart objects, as well as for payment. A few such NFC/Proximity RFID pilot applications have already been announced with the participation of several key industry customers such as American Express, MasterCard, Motorola, Nokia, NTT DoCoMo and Vodafone KK.
NFC devices operate at 13.56 MHz in very close range, up to about 20 centimeters. It enables two devices to communicate by instantly configuring them to form a peer-to-peer network. Once this configuration data is shared between the devices (such as a cell phone and laptop) over the NFC/RFID interface, the devices can continue to interact by using Bluetooth or WiFi to establish faster and longer-range communication.
Those investigating RFID and NFC technology, from consumer device manufacturers to wireless telecom providers, also envision consumers using their devices to perform secure transactions. These include retail credit or stored value payments (such as using an RFID-enabled cell phone to purchase a subway ticket or making a retail purchase anytime, anywhere – and immediately connecting to the bank's authorization network to validate the transaction), or for access control to sensitive areas. Additional security can be supported by integrating biometrics with RFID.
RFID and NFC will facilitate these every day interactions, allowing consumers to do day-to-day activities more conveniently and quickly, but also offering additional value – enabling users to share pictures or other small files between mobile phones, a digital camera, a PC, a handheld device, or even a TV – with the intuitive action of simply touching two devices together. Users may also download information like movie tickets, directions to a favorite restaurant, or a link to a Web site – the possibilities are truly endless.
By expanding the use of RFID with NFC, new opportunities for contactless payment, access control and security, mass transit and a wide range of new information sharing applications for consumer devices will be created. A number of product/application launches and pilot programs will kick off internationally in 2005.
---
Visit Texas Instruments RFid Systems on the web at www.tirfid.com.
Near Field Communications News and Insight
Explore more developments dealing with the implementation of Near Field Communications, a short-range wireless technology that promises to revolutionize contactless identification, payment, access, and more.
Click to visit NFCNews
.