Cosmopolitan of Las Vegas taps GPI for casino currency and gaming equipment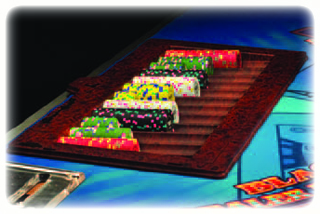 Gaming Partners International Corp. (GPI), a provider of RFID-enabled casino currency and table game equipment, announced that it has received purchase orders from the Cosmopolitan of Las Vegas to supply gaming tables and casino chips.
Set to open later this year, the Cosmopolitan will receive more than 460,000 gaming chips from two of GPI's lines of casino currency – Paulson chips and Bud Jones chips. GPI will also deliver 102 custom-built gaming tables for the property's casino, including the high limit room and the specialty pits both in the casino and around the pool area.
GPI USA uses a standard RFID microchip developed by Phillips, and embeds them in gaming chips without modifying the characteristics of the chips so that dealers and players can handle them as usual. The chips are called Smartchip for Bud Jones chips and Chipsoft for Paulson chips. They can be read one at a time or in stacks, boxes, and trays or on tables with readers made by GPI SAS, and enable the information to be entered, accounted for and processed automatically by the casino computer systems.
The microchip has a read and write memory size of 256 bits and has several sections that can be configured to meet casino applications. Key data such as casino names and chip values are entered and sealed into the memory of the microchip. They become read only. Nobody can change them. This greatly increases the security of the chips but also the security of their production, transportation and utilization.