Costs and standards continue to deter advanced ID card adoption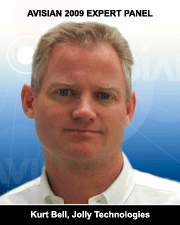 By Kurt Bell, vice president Sales & Marketing, Jolly Technologies
Without a doubt we have seen an increased interest in applications and requests from customers that would benefit from RFID, contactless and ultra high frequency technologies. We have also seen many specialty entry/exit tracking markets where the implementation of these technologies provides a faster way to move and track people through checkpoints.
We will see more projects for such integration come to fruition in 2009. Industry segments that seem to be leaning toward the technology include event management, construction, petrochemical and other high-security sites.
Is widespread adoption of advanced ID card technology coming soon? No. Cost is the major factor. The lack of standards and expertise required for implementation make it too expensive for most.
The low cost and ease of use of bar code technology still remains king, out-pacing even magnetic stripe technology by at least 10 to 1. The American mainstream ID market isn't looking for it, isn't asking for it and won't pay for it.
In Europe we find wider-spread use of MIFARE and DESFire technology. However, it is rare to find customers using this technology for anything other than encoding the cardholder's ID number. The technologies aren't being used to their fullest extent and as such aren't any more secure than other traditional identification means. Here too, system costs are prohibiting security benefits.
For the near future it is status quo for most.
---
About the AVISIAN Publishing Expert Panel
At the close of each year, AVISIAN Publishing's editorial team selects a group of key leaders from various sectors of the ID technology market to serve as Expert Panelists. Each individual is asked to share their unique insight into what lies ahead. During the month of December, these panelist's predictions are published daily at the appropriate title within the AVISIAN suite of ID technology publications: SecureIDNews.com, ContactlessNews.com, CR80News.com, RFIDNews.org, FIPS201.com, NFCNews.com, ThirdFactor.com, and DigitalIDNews.com.