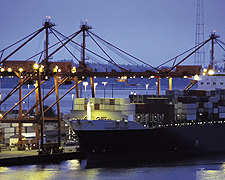 The National Maritime Security Advisory Committee's TWIC Working Group says there are many issues that need to be resolved with the Transportation Worker Identification Credential. The committee was started to give the U.S. Department of Homeland Security feedback on maritime security issues.
The 17-page report released at the end of July details issues port operators have with the TWIC program as well as a number of unresolved issues and unanswered questions. "Unresolved problems in each of the areas addressed below help to foster the sentiment among stakeholders that the TWIC program is broken," the report states. "Coast Guard and TSA must address the issues identified in each of these areas if they hope to generate higher rates of enrollment, sustain stakeholder cooperation and meet compliance dates."
Questions in the report range from how rail crews will be verified with TWIC, to how the TSAs "hot list" will be used at individual facilities and why isn't the TWIC accepted as an official ID at airport.
There have also been issues with the fingerprint biometric associated with the credential.
The Port of Long Beach hosted an on‐site mobile enrollment where more than 200 port employees were enrolled in the TWIC program. But of the attempted enrollments, 3.7% were unsuccessful due to fingerprinting failures. Other port operators say up to 8% of their workers are having enrollment issues due to fingerprinting issues. The number only increased as more workers attempt to enroll.
Also, the encryption of the fingerprints on certain cards was not performed properly, which causes the decryption to fail. The full extent of the problem won't be known until those cards that have been issued are tested.
The working group is hoping for an answer to some of these questions by the end of August. As a May 2009 deadline nears for TWIC operators are concerned. "Despite the fact that initial TWIC roll‐out is already halfway complete in terms of estimated time frame, only approximately 219,000 of the estimated 1.5 million potential TWIC holders, or just over 14%, have received their cards. Clearly, there are a number of issues that need to be addressed even this far into the process."
The full report can be downloaded here.