DAILY releases another RFID handheld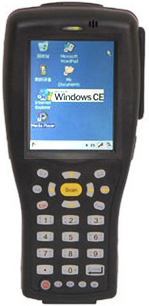 DAILY RFID released a new UHF RFID handheld reader designed for enduring challenging environments. The light-weight DL770 operates at 860 to 960 MHz and secures information with IP64 protection.
The DL770 sports a 3.5″ touch screen LCD display and a full QWERTY keyboard. With read range up to 4 feet, the DL770 can be used in a variety of applications, with its combination with wireless syncing via Wi-Fi, Bluetooth and GPRS. The mobile reader is using Windows CE 5.0 operating system and comes with 128MB SDRAM and 128MB of non-volatile Flash ROM storage to protect data from resets or complete power loss.
DAILY's DL770 is designed for rugged industries such as warehouse management, pallet logistics, luggage handling, inventory management, etc.