Dallmeier, initPRO literally improve visibility of supply chain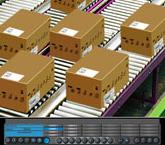 Integrating RFID data into video images to provide higher visibility has been made possible with the combination of Dallmeier's experience in video surveillance shared with initPRO's knowledge of RFID technology.
Data transmitted via RFID tags, such as date, time or serial number, can be integrated into any video image, using management software, allowing users to not only read the tag but view the product equipped with it in real time. The RFID tags automatically register the location of products in the supply chain, but by integrating video images, parcels and even whole pallets can be identified at any given point.
Items are scanned when they come in and when the go out. Using video images also provides definitive information for recovering transport costs due to damages. The combination of RFID technology coupled with video images not only give the location of the product, but the current condition as well, right up to the moment of delivery.
The registered data is saved by the digital recording system, together with the image data, in order to ensure that images and parcel data can later be clearly matched.
To see more on this click here.