Datakey's Axis poised to bring logical security to the masses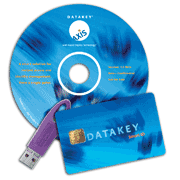 The logical security market, the business of securing computers, networks, and individual access to data has been an almost constant state of change. And as a company that has weathered the many storms of recent years, Datakey is an organization that learned to embrace change. For every company in the logical security market that has been in business for more than a couple of short years, there are dozens that have come and gone. Datakey is a survivor and if company CEO Tim Russell's vision is correct, they are poised to tame the beast that is logical security and bring it to your desktop.
Change as a way of life
The company began in 1976 with a goal of providing easy, secure and industrial strength devices to transfer information from device to device. In 1983, Datakey's initial public offering initiated trade on the public stock markets as a manufacturer of patented memory tokens. Datakey was a hardware player in a market that was still vastly undefined.
In the 1990s many of the pioneering manufacturers of tokens, smart cards, and readers came to a similar conclusion … it is tough to sell hardware without software that utilizes it and integrators that sell and deploy it. So Datakey's focus shifted from hardware to software.
They were in good company. Gemplus, Schlumberger, and others were also formalizing their foray into the application and solutions development arenas.
Datakey became a provider of public key infrastructure (PKI) solutions. But the 1990s were less than kind to PKI companies. The combined immaturities of the technology and the market buying it (or not buying it) placed a lot of fish in a very small pool. Many of the fish starved. But Datakey did what the most successful companies do. They survived.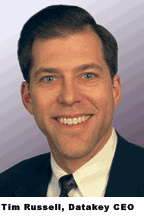 Recognizing today's logical security demands
Today, Datakey seems to have a very healthy read on the market. They offer a high-end PKI-based set of solutions for those customers that understand they are in need of true PKI. But they also have developed a highly secure offering that is easy to deploy and upward-compatible to full-on PKI.
This new offering is called Axis. Says Mr. Russell, "the beauty of (Axis) is that out of the box we can support digital certificates, single sign-on, and username/passwords."
What is Axis?
Axis is a solution that delivers single sign-on functionality for enterprises struggling with the expense and security weaknesses inherent in password-based authentication environments. It includes a server-based software application and a series of tokens–either smart cards or USB tokens–that contain the individual's user credentials.
Because of its early history as a token manufacturer, Datakey is in a fairly unique position of supplying both the hardware and software. In actuality, however, most of the hardware manufacture has been passed off to other sources.
And in the modern world where the push for standardization and multiple suppliers has been grasped with both hands, Datakey has brought others into their fold. According to the company's vice president of business development, Chris Schwartzbauer, Datakey Axis is operating on USB tokens, contact smart cards running the JavaCard OS and ISO 7816 filesystem cards, and contactless cards including iCLASS, Mifare, and DESFire.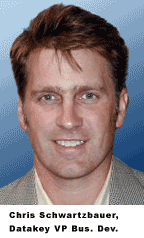 But the key to Axis is the realization that logical security, if it is to be accepted in mass, needs to be easy to deploy and use. Says Mr. Russell, "we can deploy Axis for an organization of 500-1000 user in hours not days." The cost, adds Mr. Schwartzbauer, "starts at $100 per user seat with volume discounts from there."
The company is targeting a broad range or industries for the product including financial, healthcare, professional services, critical services (e.g. utilities), as well as OEMs.
Says Mr. Russell, "We are positioning Axis as the ATM card for authentication."
If they can accomplish that the final change for Datakey may well be to the position of true industry leader. The logical security market has been waiting for this level of ease-of-use.
---
Additional resources:
Visit Datakey on the web at www.datakey.com