Datastrip handhelds deployed for Georgia Port use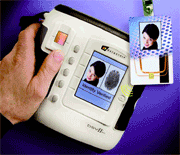 The Port of Savannah will use the DSVII-SC handheld from Datastrip to validate ID cards within its facilities. The Georgia Ports Authority selected the versatile Datastrip unit to read the current magnetic stripe cards but the DSVII-SC is also able to read advanced ID technologies such as those driving the TWIC card.
Georgia Ports Authority Deploys Datastrip DSVII-SC Devices to Enhance Port Security
EXTON, Pa. (November 27, 2007) — Georgia Ports Authority (GPA) has selected Datastrip Inc's DSVII-SC handheld biometric terminals to validate worker ID cards at the Port of Savannah.
"Datastrip's DSVII-SC provides the Georgia Ports Authority with a customizable device that integrated smoothly with GPA's legacy magnetic stripe ID cards," said Mike Cates, vice president and sales manager of Remote Technology Inc, Datastrip's integrator at GPA. "They chose the DSVII-SC over other options for its small size and ability to perform in the harsh, salty and humid Savannah climate."
Weighing just 2 pounds, the DSVII-SC meets government standards that verify its rugged durability. The unit is weather-resistant to wet/dry conditions (Ingress Protection rating 54) and drop-resistant to withstand freefalls (Military Standard 810F).
To date, the Port of Savannah is using 25 DSVII-SCs at various port gates to ensure that workers carry valid ID cards.

About Datastrip
Datastrip Inc., Exton, Pa., is a world leader in field-proven mobile identity verification. Together with market-leading biometric and information technology vendors, Datastrip specializes in providing secure portable information and ID solutions that provide on-the-spot verification of credentials from any individual. The Datastrip product line supports biometric fingerprint matching, as well as contact-based and contactless ID cards such as national ID cards and passports.
Datastrip's DSVII and DSV2+TURBO biometric/ID card readers are the first handheld single-fingerprint capture devices approved for purchase by federal agencies under the General Services Administration's FIPS 201 evaluation program. For its work with the DSVII, Datastrip won Frost & Sullivan's Product Innovation of the Year Award for the smartcards market in 2006.