De La Rue supplies Ireland's new contactless and biometric passports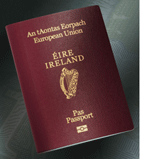 De La Rue produces the paper currency for more than 150 countries as well as a range of security documents including passports. The company adds another ePassport project to its portfolio announcing that it has begun production of Ireland's ICAO-compliant, contactless passports. Layered security (e.g. digital signatures, Basic Access Control (BAC), and Active Authentication to prevent cloning) helps to secure the high tech book.
De La Rue Supplies New Irish ePassport
De La Rue Smurfit is supplying a new ePassport containing a highly secure 72kB chip to the Irish Department of Foreign Affairs. The Irish Government issued the first books on 16 October 2006, in advance of the United States visa waiver programme deadline of 26 October 2006. De La Rue Smurfit supplied around 700,000 Irish Passports last year. The new document is fully compliant with the International Civil Aviation Organization (ICAO) 9303 standard.
The ePassport features a contactless 72 kB chip which stores the bearer's biographical details, as they appear on the details page of the passport, and a digital image of the bearer. De La Rue produces 34 and 66 page books for the Irish Government in secure, controlled and audited conditions. They are manufactured in one of De La Rue's high-technology ePassport production sites within the European Union. The confidentiality and integrity of the documents are secured during the Department of Foreign Affairs' personalisation process. Layered technologies including digital signatures, Basic Access Control (BAC) to protect against electronic eavesdropping and data 'skimming' of the chip, and Active Authentication to prevent cloning are employed in the ePassport.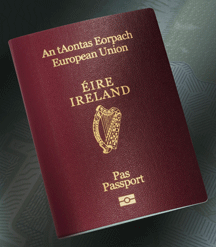 De La Rue is also responsible for producing the Irish emergency passport issued by the Government to citizens who have urgent travel requirements but do not have time to receive a standard passport through the usual application process. Emergency passports are personalised at the three Passport Offices in Ireland and more than 60 Irish Diplomatic and Consular Missions overseas. The data page is secured by De La Rue's MLIS™ solution, which is used by some 25 issuing authorities worldwide and is fully compliant with ICAO 9303.
Commenting on the contract, Paul Wilson, Managing Director of De La Rue Identity Systems said:
"De La Rue has been involved in setting the future direction of ePassport developments with international standards bodies and has focused on the performance, security and readability of its solution. Extensive testing ensures that De La Rue's ePassport exceeds industry standards."
For further information, please contact:
Adam Trill, Head of Commercial Operations and Marketing
De La Rue Identity Systems
T: +44 (0)1256 605010
M: +44 (0)7740 896718
[email protected]
De La Rue
De La Rue House
Jays Close
Viables
Basingstoke
Hampshire
RG22 4BS
www.delarue.com