Despite worldwide economic problems, smart card market will remain strong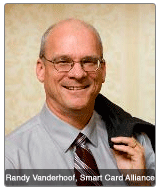 By Randy Vanderhoof, executive director, Smart Card Alliance
Looking into the future of the North American smart card market in 2009 and 2010, I see no signs for concern, with the possible exception that the current recession could be far worse than previous economic downturns. Having been professionally engaged in the smart card industry since the early 1990s, I have witnessed the smart card markets riding the cycles of the financial industry and going through many ups and down. Whatever happens next in the general economy, the 2009 smart card industry has a solid foundation to maintain, and even grow, its business.
Two examples of that strong foundation are the government and mobile telecom markets.
The federal government has adopted smart chip technology as a core component of its homeland security policy. The U.S. has invested heavily in defining the card standards, updating credentialing policies, and getting issuance infrastructures in place.
This has resulted in the issuance of millions of smart cards in the form of government employee IDs (PIV), port worker IDs (TWIC), and e-passports. The next few years will bring further investments in the reader infrastructure and in changes in physical and logical access systems that use these new smart card-enabled credentials.
New government and private industry initiatives have also started to extend standards-based, secure ID badges to new markets, providing rapid authentication of emergency response officials, trusted travelers, airport workers and enterprise employees.
Identity programs will provide opportunities for security industry suppliers and integrators for many years. And unlike other countries, where government elections result in wholesale changes to earlier administration programs, the transition of power in the U.S. is not expected to change existing identity initiatives and may even lead to new programs in the areas of social benefits and health care industry reform.
The second example of strength lies in the mobile telecom market. For nearly 20 years, U.S. mobile operators watched from the sidelines as the international GSM standard using SIM chips for mobile applications and device independence fueled the smart card industry everywhere except the U.S.
Industry consolidation and convergence around the 3G data handling infrastructure eventually led the leading U.S. mobile operators to move to SIM-based mobile handsets. The largest operator, Verizon, just announced support for its first global smart phone, the Blackberry Storm, adding GSM service support similar to devices already offered by AT&T and T-Mobile.
With 261 million subscribers, up 7% from 2007 with an 86% market penetration, the mobile market shows no signs of slowing down. While GSM handsets account for only 38% of the total U.S. market, there is still plenty of room for growth.
An area that may help grow this market is near field communication. The anticipated influx of NFC mobile devices, however, has been hampered by the mobile carriers and payments networks continuing to dance the revenue split tango with no signs of them coming together. This stalemate has delayed the volume delivery of NFC handsets by a year or more.
Contactless payments market growth has slowed after its torrid 2006-2007 start, but there are no signs of retreat. Despite the problems facing the financial industry and some issuer consolidation, the banks with the strongest balance sheets, such as Bank of America, JP Morgan Chase, and Wells Fargo, are also the largest issuers of contactless cards.
Many are still predicting that the U.S. market will pass 50 million cards sometime in 2009. With an estimated 100,000 merchant locations, retailer acceptance is also steadily growing. Fueling the market has been aggressive payment brand subsidies and the increased POS terminal replacement rate as merchants move to comply with the PCI PED mandate scheduled for implementation in 2010.
Further breakthroughs in contactless payments acceptance by transit operators in New York City, Salt Lake City, and Philadelphia are expected in 2009 and 2010, and consumer usage of contactless payments will spike if additional transit applications and NFC mobile devices reach the market.
In conclusion, I'm optimistic about U.S. market growth in the coming years. The programs forming the foundation for the industry are demonstrating the true value of smart card technology for protecting sensitive information and enabling secure transactions, a capability that is much needed in all markets.
---
About the AVISIAN Publishing Expert Panel
At the close of each year, AVISIAN Publishing's editorial team selects a group of key leaders from various sectors of the ID technology market to serve as Expert Panelists. Each individual is asked to share their unique insight into what lies ahead. During the month of December, these panelist's predictions are published daily at the appropriate title within the AVISIAN suite of ID technology publications: SecureIDNews.com, ContactlessNews.com, CR80News.com, RFIDNews.org, FIPS201.com, NFCNews.com, ThirdFactor.com, and DigitalIDNews.com.