DeviceFidelity unveils iCaisse4X for iPhone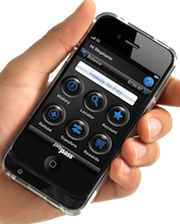 DeviceFidelity has unveiled the latest addition to its lineup of NFC-enabled protective cases for the iPhone, the In2Pay iCaisse4X NFC.
When equipped with Device Fidelity's In2Pay microSD, the iCaisse4X enables iPhone users to fully utilize NFC features such as card emulation, NFC tag reading and writing, mobile payments and peer-to-peer data exchange while offering an extended battery that provides several more hours of use.
The new design comprises a hard shell two-piece case that allows iPhone owners to simply slide in their phone and instantly enable NFC functionality. The extended battery portion of the cases is removable, allowing users to carry multiple charged batteries for extended use.
According to DeviceFidelity, the company has received three additional patents for its iPhone NFC protective case technology, taking its granted patent position beyond the US to Europe, China, Mexico and several other countries.