DeviceFidelity's In2Pay iCaisse4 gets MasterCard certification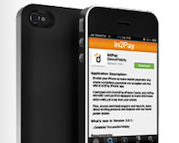 DeviceFidelity announced that its In2Pay iCaisse4 has become the first NFC payments solution for iPhone to be certified for commercial deployment with MasterCard Mobile PayPass.
The iCaisse4, a protective case for the iPhone 4/4S that enables NFC via microSD, can now be issued by banks or wireless operators in conjunction with MasterCard certified mobile wallet applications. This means that for the first time, iPhone users will be able to make contactless purchases with their MasterCard credit, debit or prepaid accounts, according to Device Fidelity.
DeviceFidelity says it has already been working with MasterCard in several countries, and this certification has "paved the way" for more mobile payment solutions using the DeviceFidelity technology, like the recently launched moneto mobile wallet.
The MasterCard-certified iCaisse4 is being demonstrated by DeviceFidelity partners this week at the Mobile World Congress in Barcelona.