Diebold debuts NFC-enabled biometric ATM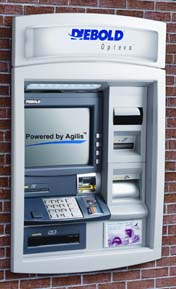 Diebold is demonstrating new prototype ATMs with NFC and biometric technology, as well as "the world's first virtualized ATM" at VMworld 2011 this week in Las Vegas.
According to Diebold, the prototypes are part of a soon-to-be released ATM series that will feature biometric thumbprint authentication and NFC-enabled mobile banking support, as well as other self-service functions such as cash and check deposit acceptance.
Diebold's other prototype – a 'virtualized' ATM made in partnership with VMware – takes ATM management software out of the end unit and puts it in a server responsible for multiple units.
According to Diebold, this consolidation will enable the establishment of a single secure datacenter, allowing for greater control and a secure location for IP addresses.
Diebold says they are currently looking for financial institutions to serve as sites for a virtual ATM proof-of-concept study.