DIS releases Desktop Laser Color Personalization System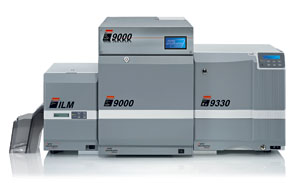 German-based Digital Identification Solutions has rolled out its newest printer, its EDIsecurer LCP 9000 Laser Color Personalization System, a desktop card production solution capable of producing fraud-resistant ID cards. The printer is on display at the CARTES and IDentification Show in Paris.
The EDIsecurer LCP 9000 integrates high quality XID Retransfer color printing and secure laser engraving on a single card in a one step process, making credential forgery and manipulation practically impossible, the company says. The printer provides a combination of security features, such as on-demand personalization of data as micro text, a changeable laser images, tactile effects, high resolution gradient UV printing, electronic guilloche and invisible personal information.
The XID Retransfer technology features over-the-edge full color printing for either single or double sided cards. The Laser Engraver Unit allows inline laser personalization of personal data and images also on either card side penetrating the card body, therefore adding additional levels of security. Different encoding options such as magnetic stripe encoding as well as contact or contactless chip technology can be utilized. To maximize card security, the system can also be combined with inline lamination modules for front and/or back side lamination using EDIsecurer clear and secure laminates.