Dulsco deploys RFID for waste management at ADNEC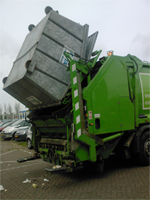 UAE based Dulsco has announced that its waste management division has introduced RFID technology at the Abu Dhabi National Exhibition Center.
For the initial pilot project, all trucks, compactors, bins and waste skips are embedded with RFID tags that provide data on the waste management activity, including when bins are emptied or transported.
Enabling better control and coordination in managing waste data can be accessed online by the Exhibition Center and the Dulsco team, such as volume, type of waste and how it is being managed.