Ecolab, Proventix become allies in RFID hand hygiene compliance monitoring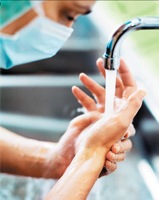 Ecolab and Proventix Systems are working together to automate hand hygiene compliance monitoring for various health care industries.
The joint venture will utilize the Proventix nGage RFID system, integrated with Ecolab products and dispensers. Health care providers' ID badges embedded RFID technology enable administrators to monitor 100% of hand hygiene events to provide reliable data.
Using real-time data, the integrated hand hygiene compliance monitoring program also provides infection prevention experts with reports that help tailor training and awareness and identify where specific involvement is needed to help drive improvement.
In addition to hand hygiene monitoring, the nGage system supports additional work flow efficiencies including asset tracking and staff location assistance, and allow workers to focus on delivering patient care.