Elecom to sell first NFC-enabled keyboard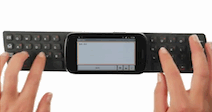 Elecom, a Japan-based provider of PC accessories, has announced that it will begin selling an NFC-enabled keyboard.
Developed alongside Norway's One2Touch, the keyboard features a gap in the middle where the user can place an NFC-enabled Android handset. The phone automatically connects with the keyboard via NFC, allowing the user to type on the keyboard whatever they want to appear on the phone's screen.
According to IT World, the keyboard has a 45-key layout, including standard letter, punctuation and arrow keys. A special function key provides access to numbers and additional punctuation.
The keyboard requires no plugs, cables or Bluetooth-style pairing, and features a built-in battery that lasts for 18 months when used for eight hours a day. The device can even fold up conveniently into a case.
Elecom plans to launch the keyboard in Japan by the end of this month for $240, according to IT World.
Check out the keyboard in action: