Dr. Peter Harrop PhD, FIEE, FCIM is Chairman of IDTechEx Ltd. He has consulted for organizations such as Kodak, GEC, the Manchester Airport, and Diageo. He lectures and consults internationally on low cost RFID.
On the left of the following diagram, you'll find horizontal marketing. Chipmakers and material suppliers sell their goods to all comers. Chipmakers are large companies selling integrated circuits for many purposes — RFID chips are only a small part of their business.
On the right, systems providers, integrators and operators specialize in specific sectors: Savi Technology in military, Trenstar in beer kegs and TransCore in road tolling.
In between, companies are trying various combinations of hardware, software and other options, neither fully positioned vertically nor horizontally.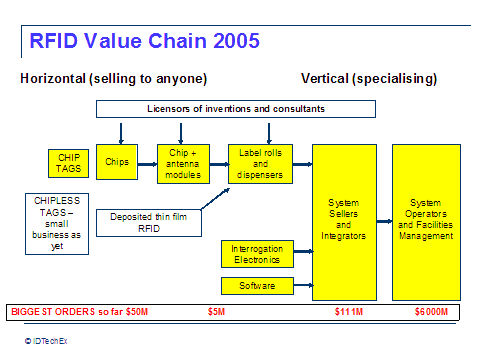 The biggest orders
Large RFID orders have always been in system provision, integration and/or facilities management.
Potential giants must migrate along the value chain
Money is in system supply, integration and management.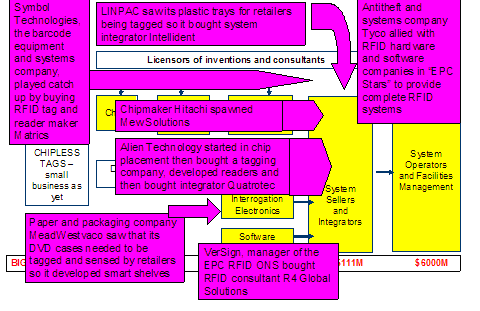 Companies are adding skills near the end of the value chain. Much of this is quite recent. For example, Symbol's purchase of Matrics in 2004, and Alien and Verisign's 2005 acquisitions of Quatrotec and R4, respectively.
An elegant acquisition
Symbol's and Matrics union is particularly elegant — its readers will read both barcodes and RFID tags. Additionally, its systems business will land contracts to integrate barcodes and RFID for military and retail sectors where it is already well respected and highly capable and the combined skill will lead it more strongly into aviation.
Mistakes are made
Gemplus International, the world's largest smart card manufacturer, added services but "sold the future" by spinning off SkiData and Gemplus Tag (now called Tagsys as a successful independent company). New Gemplus management have bought back into RFID with Setec, which supplies three dollar passport RFID tags and associated systems to Scandinavian countries and Singapore. Hopefully, Gemplus will realise the importance of consistency of purpose — a feature that correlates strongly with commercial success in company analyses.
The business model changes
Nothing is forever and the industry is easily misread. RFID tags with no silicon chip have been the exception — the opposite of the situation with the antitheft tags. That will change as mass retail evironments call for tags at less than a cent. An increasing number of analysts and suppliers realize it may be impossible to achieve stability with silicon chips — an enduring profit for all in the tag supply chain.
Chipless disruption, but when?
Organic Thin Film Transistor Circuits (TFTCs) will move to center stage, though infrastructure will remain largely the same. History will be repeated — the large, profitable label market, created for barcodes, largely vanished when barcodes were printed as part of normal graphics on packaging and products. An analagous situation is projected below, the difference being that direct printing of RFID onto things will call for special electronic inks, albeit printed by familiar machinery in an adapted form.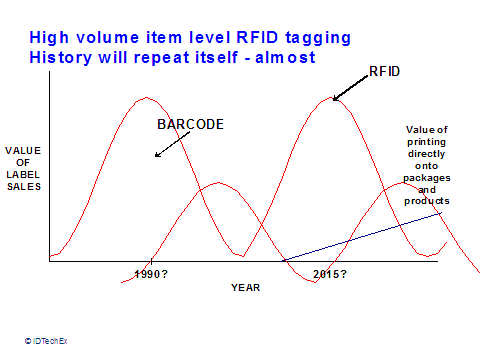 The value chain will start to evolve as shown below, though a transition to directly printed RFID may not occur before 2020. As with barcodes, a number of applications will remain that require labels or an external tag.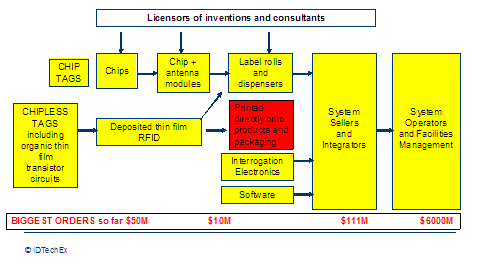 Why tag making is no longer a sideshow
Why should this matter if the tags have been the subject of only modest orders so far? In the highest volumes — billions for supermarket goods and postal packages, the market will interest those with the capital and ambition to make a late entry into the RFID business. Although there are small operations in the printed transistor business (Plastic Logic, OrganicID, Kovio and ORFID) their priorities are not necessarily in RFID. The replacement for the silicon chip may come via a booming horizontal maket of polymer semiconductors.
Companies with both electronics and printing skills will be strong
Such a movement of the market would be of immense interest to electronics companies heavily involved in printing (Hewlett Packard, Toppan and Dai Nippon) and it should come as no surprise that they are already working on printed electronics as are giants such as Samsung, Toshiba, IBM, Xerox and Sony.
The Ferraris of RFID
There are a number of companies working to corner emerging niche markets.
All require peculiar skills and industry knowledge of little interest to the big boys. Indeed, RFID is going to be such a large industry that vertical integration, from making specialist tags and/or readers to supplying service to a specific industry will permit niche companies to achieve at least hundreds of millions of dollars yearly in gross sales while protected from larger industry players.
More on author Dr. Peter Harrop
Dr. Harrop was previously Chief Executive of Mars Electronics, the $260 million electronics company, Chairman of Pinacl plc, the $100m fiber optic company and Chairman of Flying Null, the chipless tag company. He has written several RFID-related management reports for the Financial Times.