Entrust extends mobile credentials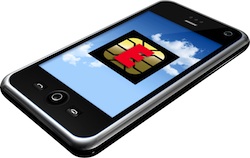 Entrust unveiled its IdentityGuard Mobile Smart Credentials to help enterprises use mobile devices as identity credentials. Available for the Apple iOS, Google Android and RIM BlackBerry mobile platforms, Entrust IdentityGuard Mobile Smart Credentials aims to transform mobile devices into multipurpose digital identities for authenticated access to logical networks, cloud applications, physical facilities and building entrances.
The Entrust Mobile Smart Credential helps secure mobile identities through the use of device certificates, mobile device management integration and transparent monitoring and authentication.
Entrust IdentityGuard Mobile Smart Credentials helps organizations leverage mobile devices for strong authentication, which includes two-factor authentication, out-of-band transaction confirmation, mobile smart credentials and future authenticator technology, for example, biometrics, GPS.
Entrust IdentityGuard enables organizations to leverage everyday smart phones to authenticate identities for physical, logical and cloud-based resources, as well as digitally signing data. By taking advantage of near field communication and Bluetooth standards, Entrust embeds digital certificates on smart phones to create trusted identity credentials for enterprise authentication.
The mobile platform is designed to simplify authentication for end-users and help organizations reduce costs by eliminating the need for dedicated authentication hardware such as tokens, smart cards and smart card readers.
Entrust IdentityGuard Mobile Smart Credentials augment security and user convenience by leveraging Bluetooth to automatically detect and connect to workstations — simply by prompting users to enter a PIN. And once a user leaves the proximity of their machine, Entrust IdentityGuard Mobile Smart Credentials can automatically lock the user session, ensuring logical access to the desktop is secured at all times.
While using existing end-user devices as authenticators for physical, logical and cloud application access, Entrust's authentication platform also integrates with existing IT systems and business processes. The system can also be deployed alongside outgoing legacy systems.