Entrust releases Arabic soft tokens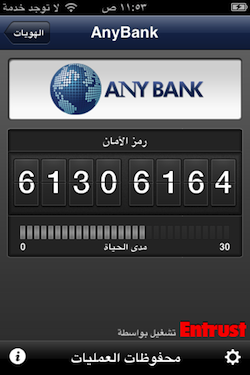 Building on its investment in the Middle East, Entrust Inc. released Arabic-language soft tokens for its IdentityGuard software authentication platform and security framework.
Entrust intends for the local language tokens to ease the security process for native Arabic-speaking customers. Two of the largest financial institutions within the six Gulf Cooperation Council (GCC) countries have already deployed the tokens. This covers six million users in the region.
The GCC consists of the United Arab Emirates, Bahrain, Saudi Arabia, Oman, Qatar and Kuwait. The combined populations of the council is 42.1 million.
Entrust's Arabic tokens are distributed through mobile-based marketplaces like Apple iTunes and Google Play. They can also be acquired through Entrust's IdentityGuard Self-Service Module.
IdentityGuard offers layered security through a number of authentication capabilities, including smartcards, USB tokens, mobile smart credentials and soft tokens, among others.